On the Audio: Polish Takes the Elegiac Beat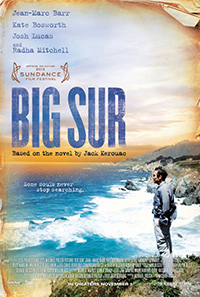 Premiering at the 2013 Sundance Film Festival alongside Kill Your Darlings, which documented a pre-Road Kerouac, filmmaker Michael Polish adapts Big Sur, one of the author's later works depicting a post-peak ennui that afflicted the famed Beat. As both films enjoy an overlapping theatrical release, Polish's title is certainly the harder sell, a downbeat (forgive the pun) sprawl into a nervous breakdown that's miles away from the vivacious Kerouac in the Krokidas film or in Walter Salles' 2012 adaptation of On the Road. Moody, melancholic, and muted visuals of lonely sweeping landscapes accompany a film comprised entirely of dour voiceover from Jean-Marc Barr, well cast as Kerouac. But as lively and expressive as Barr's rendition is, Polish's dependence on the device grows tiring, even at a rather slim running time.
Based on his 1962 novel, which recounts three brief visits to his friend and fellow Beat poet's Jack Ferlinghetti's cabin in Bixby Canyon, known as Big Sur, is here related through Kerouac's fictional alter ego, Jack Duluoz (Jean-Marc Barr). Unable to cope with fame and the public's intense interest with him after the success of On the Road, Jack retreats to Big Sur to escape the city. But it's not long before he begins to miss city life, forcing him to return to the bright lights and broken boulevards, his alcoholism spiraling out of control. In the midst of his visits, Jack becomes intensely involved with Billie (Kate Bosworth), mistress of his best friend Neal Cassady (Josh Lucas), which doesn't seem to make any of them any happier, including Cassady's long suffering wife, Carolyn (Radha Mitchell). But after the bloom of love has worn off, Jack finds himself unable to commit to Billie's emotional expectations, a pressure which seems to culminate into his third trip to Big Sur as well as an emotional breakdown.
There is no howl to accompany the disquieting solitude of the striking visuals; instead we receive an endless stream of jaded prose that sometimes feels inspired, but more often seems pretentiously glorified. As we watch Josh Lucas' Neal Cassady chop wood, a mini monologue describes Kerouac's awe at his friend, describing his ability as a "vast but senseless strength with the fury of a Greek god." It's swatches of Kerouac's rambling and sometimes melodramatically inclined prose that distract and grate, and perhaps if Polish had been more frugal with the omniscient narration a more distilled and meditative study of a creative talent in dire crisis would have been more evident.
While Barr's performance takes a back seat to the over narration, he's an inspired and intriguing Kerouac, his hang dog visage reflecting the quickening constancy of the writer's spiritual and physical paralysis in the wake of love, creative energies, and basic functions. Polish's wife, actress Kate Bosworth, happens to be the only other character that Big Sur allows to materialize, and she's a lively accent of 60s sheik that quickly becomes an emotional vacuum for Kerouac.
The rest of the entire plumped up supporting cast may as well be phantom memories so infrequently and unnecessarily are they used, and their presence feels more like an exercise in name dropping as Anthony Edwards, Balthazar Getty, Henry Thomas, Radha Mitchell, and Stana Katic wobble about as notables from the Kerouac void. And then poor Josh Lucas seems most noticeably out of place as the boisterous Neal Cassady, his performance almost manic in comparison to the dysthymia biting everyone else's heels. Big Sur is a picturesque film to behold, but if you close your eyes, it sounds like an audio book.