Reviews
Dallas Buyers Club | Review
AZT & Sympathy: Vallee's Drama Banks on Unforgettable Performances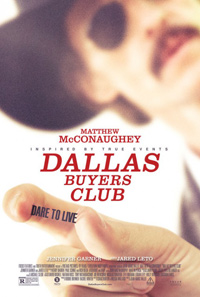 Cinematic portrayals of the onset of the AIDS crises have always been a bit nipped and tucked in films intended for mainstream consumption, and Jean-Marc Vallee's Dallas Buyers Club is no exception. While filmed on a limited budget, the talent on hand and the extreme amount of commitment that went into the making mean this may have been filmed with all the trappings of an independent film, but it was never intended to be treated as such. And there's much here to prove that attitudes are changing, as the willingness to honestly examine the homophobia that assisted in the spread of the AIDS virus is finally being made and manufactured for more than only an affected demographic. That said, Vallee's film often does rely on formula and sometimes obvious manipulation in a true story that's quite moving on its own.
In 1986 Texas, womanizing, homophobic electrician Ron Woodruff (Matthew McConaughey) contracts HIV. An accident at work brings him to the hospital where doctors discover his status, which enrages Woodruff because HIV/AIDS was still commonly thought to be something only gay men contracted. Told his T cell count was so low he had only about another thirty days to live, Woodruff researches his options, discovering there's an experimental drug known as AZT that could potentially save him, though it's still being tested for effectiveness and so he begs the doctors at Dallas Mercy (Denis O'Hare and Jennifer Garner) to be prescribed some. Since enrolling in the trial means he has the possibility of being part of the placebo group, he steals AZT, but the dosage proves harmful to him (and, as we come to understand, to everyone else as well). In an effort to seek alternative medicines, Woodruff goes to Mexico where he finds drugs being developed that are much more beneficial, which he smuggles back over the border. Since these drugs are not approved by the FDA, it would be illegal to sell them. But, Woodruff borrows another group's idea by creating a club requiring members to pay a monthly membership fee of $400.00, who would then receive free drugs. During one of his stays in the hospital, he strikes up an unlikely conversation with Rayon (Jared Leto), a drug addicted drag queen who has been diagnosed with AIDS. Woodruff realizes that with the help of Rayon, he can market his club and make a lot of money for his efforts.
There's an extremely telling moment in Dallas Buyers Club that serves as the marked litmus for where we are on cinematic portrayals of AIDS. When Woodruff admits his idea for the club was modeled after "a bunch of faggots in New York," which refers to ACT UP, an advocacy group whose story was told in 2012's documentary How To Survive a Plague, it's interesting to note that the preferred cinematic route happens to be about the homophobic and "accidental activist" in Texas, whose selfish life is eventually turned around after the despicable way he's treated by an uncaring system rather than the gay originators of the idea.
In truth, Woodruff exploits the LGBT community for his own gain before his eventual change of heart. After all, only those that had access to an extra $400.00 a month could even try to go to him for help. Craig Borten and Melisa Wallack's screenplay, while with its faults, deserves credit for not watering down Woodruff's initial homophobia, though many would probably argue that he could have been portrayed as much more hateful.
While Dallas Buyers Club will be most remembered for the unprecedented commitment from an extraordinary Matthew McConaughey and Jared Leto, other cast members are convenient clichés, especially the woefully miscast Jennifer Garner who strikes a false note in nearly every scene. The magic of McConaughey and Leto is that they can transcend the clichés and reach some truly emotional moments. Consider an incredibly overwrought and formulaic scene in a grocery store in which Woodruff's old life intersects with his new existence, calling for him to defend the honor and respect of his new and only friend, a moment which could have played as predictably as it sounds, but manages to be incredibly profound. Consider Leto's Rayon visiting his estranged father for a considerable loan, a confrontation loaded with disgust, dislike, and begrudging emotions. It's these moments, both quiet and otherwise, where Leto and McConaughey establish something quite magical in that they seem like real humans suffering in an impossible situation without a lot of options.
Vallee, whose films often seem to veer into excessive tangents, such as he does in C.R.A.Z.Y. or Café de Flore, seems a bit more subdued here, consigning most of the work to a story that tells itself. However, the use of title cards announcing Woodruff's days of survival past his initial terminal diagnosis of 30 days quickly begins to feel excessive and distracting. As uncomfortable as the film starts out, what with a slur about Rock Hudson that seems a bit too on point, the homophobia gets dialed back considerably as the film becomes a man vs. the system tale and Woodruff begins to transcend into near heroic status.
As it loses this edge, so does the film also become predictably structured. As we move farther and farther away from the horrific crises, even though the AIDS epidemic still hasn't disappeared, films like the Dallas Buyers Club are a nice start as far as recuperating and retaining what happened for future generations. But this is only one person's story, told from a safer, straight point of view. Nothing more, nothing less.
Reviewed on September 8 at the 2013 Toronto International Film Festival – Special Presentations Programme.
117 Mins.