Blanca Y Negro: Berger's Sensational Snow White Adaptation May Be One of the Greatest Ever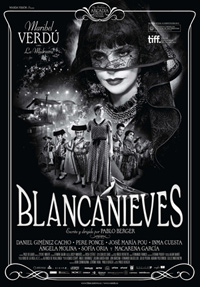 Don't close the casket of Snow White's coffin just yet, as Pablo Berger's sophomore effort, Blancanieves, is a testament to the stunning capability of cinematic reimagining in the right hands. Though her story is old hat, to say the least, and we've had four other filmic examples, what with television series "Grimm" and "Once Upon a Time" joining two big budget 2012 film versions, including Mirror Mirror and the more successful but sadly lacking Gothic re-do Snow White and the Huntsman (which will see a sequel), with which modern audiences can compare, Berger's reimaging of the tale is set in 1920's Seville and concerns a female bullfighter. And it's a modern silent film, and one that's shot beautifully, with each frame elegantly composed, that it makes the techniques of 2011's The Artist seem archaic. Berger has managed to take a tale as old as time and enchant us to the point where we're not only invested in the characters, but there's tension and mystery as well.
Antonio Villalta (Daniel Giminez Cacho) is a renowned bullfighter, and we first see him doing what he does best, facing a formidable bull named Lucifer. About to complete this match, he turns to the audience to address his wife, Carmen (Inma Ciesta), a heavily pregnant singer. He throws her his hat, which she fails to catch, and moments later he's gored by the angry bull. In a panic, Carmen goes into premature labor and dies in childbirth, while Antonio survives his attack, but is now quadriplegic and devastated at the loss of his beautiful bride. Unable to behold his healthy daughter, also named Carmen (Sofia Oria), she is left to live with her loving grandmother (Angela Molina), while Encarna (Maribel Verdu), Antonio's conniving nurse, marries him and usurps his fortune.
When Carmen's grandmother unexpectedly dies, she packs up her pet rooster Pepe and goes off to live with her stepmother, forbidden to visit her isolated father on the second floor of the ornate mansion. Subject to various cruel abuses from the cold hearted Encarna, Carmen grows into a beautiful woman (Macarena Garcia), but is treated as one of the servants of the household. When Antonio dies prematurely, Encarna tasks her chauffer and lover Genaro (Pere Ponce) with disposing of the young lady. Leaving her for dead in a pond in the forest, she is rescued by a band of bullfighting dwarves (they fight calves). Suffering amnesia (the dwarves decide to name her Blancanieves, after the girl in 'that story') after her near death experience, Carmen, who remembers the bullfighting skills her father taught her, saves one of the dwarves from a dangerous situation in the ring, and soon she becomes the star attraction of the show. When her fame eclipses socialite Encarna and she trounces the older woman's chances of appearing on a fashionable magazine cover, the heartless femme fatale is off to the bullfight, poisoned apple and all.
The decadent elegance of Blancanieves is gloriously astounding, and Berger has made an homage to the tradition of the European tradition of silent cinema. Melodramatic facial expressions abound, recalling Lang's classic silents, and Berger has a bevy of beautiful females he glamorously captures here, the most bewitching, of course, belonging to a delightfully wicked Verdu, whose more notable roles tend to err on the side of the heroine or unconventional object of sexual desire (Pan's Labyrinth and Y Tu Mama Tambien, for starters). Her very name, Encarna, which means "embodies," is as perfect for the character as Verdu's casting is for the film, with her sunken cheeks, she's as streamlined as those hungry looking greyhounds she surrounds herself with.
One can imagine that Bunuel (no stranger to the adaptation of classic texts, like Wuthering Heights, 1954) would have appreciated Berger's inventive retelling, (not to mention the presence of the still ravishing Angela Molina, who starred in Bunuel's last film, That Obscure Object of Desire, 1977), both for the cinema it recalls (there's a silver platter sequence that reminds one of the camp cruelty of Whatever Happened to Baby Jane crossed with the "Marceline" segment of Walerian Borowczyk's Immoral Women, 1979) and how it strikes out on it's own as one of the most elegant pieces of filmmaking you're apt to see. Along with another one of the best films of 2012, Miguel Gomes' Tabu, one can see that the beauty and wonder of silent cinema is alive and well, but the magic of Blancanieves is that Berger gives us a timeless tale wondrously told.