Portrait of the Artist: Aronofsky Thrashes Wildly with Art-house Freak Show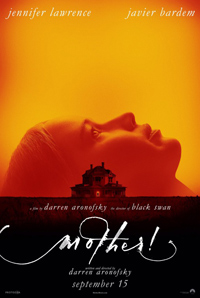 Three years since his Biblical studio effort Noah, Darren Aronofsky is back in the vein of the psychological horror which brought him great acclaim in 2010's Black Swan. The exclamatory mother!, however, only delivers on the shriek implied in its emphatic title, which promises to be a chamber piece Lars Von Trier might have lifted from Edward Albee, and then morphs into an increasingly nutty and indefatigably silly masquerade.
A metaphor for the act of creation, and how the precarious agency of mothering defies conceptions of the artist as an act of selflessness rather than selfishness, Aronofsky paints what sometimes seems an homage to past suffering partners (his marriage to actress Rachel Weisz comes to mind, at times) as a poet and his much younger wife are visited by an older couple at their recently remodeled mansion, which spurs a harrowing chain of events for a woman desperately trying to maintain her decorum.
A young woman (Jennifer Lawrence) busies herself renovating the palatial estate she lives at with her husband (Javier Bardem), a famous poet, singlehandedly. It was the same property which claimed his family in a deadly fire, and his writing block is perhaps contributed to the haunting memories of the traumatic event. When an orthopedic surgeon (Ed Harris) arrives out of nowhere mistaking their home for a hotel, the author invites him to stay. The sick man is soon joined by his abrasive wife (Michelle Pfeiffer), and when the snooping couple breaks a precious stone, the only remnant from the author's past life, strange things begin to happen.
If Aronofsky's tasteless portrait of the Sisyphean hellishness of motherhood, and its twin juxtaposition of artist/celebrity sometime recalls major Euro auteurs like Polanski, Haneke, and even Bunuel as he explores the discomfort of disrupted social cues, this increasingly silly fantasy forgets (or neglects) the necessity in foregrounding a baseline of reality. As Matthew Libatique's camera swirls in a frenzy on Lawrence's face, or follows her steadfastly from behind in her increasingly frustrated journey of passivity, mother! quickly loses its ability to induce empathy, and instead depends on the shock and awe perpetuated by dialing up the innate misogynistic tendencies faced by a younger woman living the shadow of her famous and troubled husband.
While Bardem is obviously suspect thanks to a fantastical opening sequence, Aronofsky's script fails to foster sympathies for Lawrence, who often recalls the blank but troubled waif Mia Farrow of Rosemary's Baby in a set-up which feels like Kafka on ketamine. If Aronofsky's foundations here seem freely inspired by Polanski's Apartment Trilogy, the arrival of the doctor in the middle of the night equally suggests his 1994 Death and the Maiden. And it's exactly when Ed Harris and Michelle Pfeiffer arrive in the first tsunami waves of bizarre behavior the stage seems set for something perversely sublime, while Lawrence is forced to undergo a Christ-like test of patience. In Bunuel's infamous Viridiana (1961), its title character states, "I know my own weakness, and whatever I do will be humble. But, however little it is, I want to do it alone."
Lawrence's character may as well have stated the same, but to eventually pointless effect. Inevitably, she's revealed to be so aggravatingly futile, it demands a condensed montage of her many blank, confused stares as she is met with one disrespectful slight after another.
Besides some sublime moments from Pfeiffer, what mother! actually has to offer is its significant sense of the enigmatic. As we're fed more and more ludicrous clues as to what the hell is going on, and slowly piece together its mystery, mother! finally crash-lands in an extended climax which may test the limits for some uninitiated audience members, while those familiar with everything from Funny Games (1997) to The Killer Inside Me (2010) should realize the empty provocation mother! is.
Sure, Aronofsky has given us something to talk about, but this unintentionally campy exercise is so gleefully entrenched in its reliance on shock value, it's glaring metaphors can't help but feel pedantic, begging for a presentation less designed for the obvious in exchange for some eeriness a bit more cerebral. Aronofsky's publicized romantic involvement with Lawrence and their resulting collaboration recalls Roberto Rossellini's first film with Ingrid Bergman, 1950's Stromboli, where the actress mewls about, handwringing and desperate on the titular island she wishes to escape from.
In other words, mother! is a flawed debacle destined to court interest but doomed to dismay, and could have benefited from collaborators a bit less eager to please one another in their willingness to push what they consider to be boundaries of good taste and dismay.
Reviewed on September 11th at the 2017 Toronto International Film Festival – Special Presentations Programme. 115 Mins
★★/☆☆☆☆☆