Reviews
Boxing Day | 2013 LAFF Review
Ape & Essence: Rose's Latest Another Profound Tolstoy Exercise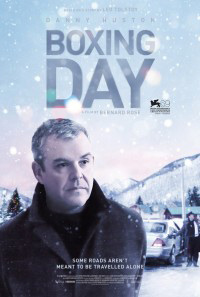 Like Branagh's penchant for bringing Shakespeare to celluloid, British director Bernard Rose has steadily amassed a collection of Tolstoy's works for several adaptations. His latest, Boxing Day, would seem to cap a quadrilogy of films based on the literary icon's works all starring Danny Huston (and don't forget, before Joe Wright's version last year, Rose had the most recent Anna Karenina with the 1997 Sophie Marceau topliner). This latest, based on Tolstoy's story "Master and Man," has been updated to reflect an economic crisis inspired road movie, with capitalism, class issues and Christmas infecting the toxic mix. For the most part, the rather blandly observed scenario is kept sharply afloat by the two lead performers playing broken, beat down bastards.
Pretentious and pompous Basil (Danny Huston) flies from Los Angeles to Denver, leaving behind his wife and child over Christmas to take advantage of some foreclosed property deals in the snowed in Midwestern city. Hired to drive him around is Nick (Matthew Jacobs), a recovering alcoholic and British transplant trying to get his life back together. Familial discord proves to be foremost on the distracted driver's mind, which puts him immediately at odds with the efficiently precise Basil. Virtually without any sort of short term recall for Basil's simplistic directions, the two haggle over the operation of Cynthia, the name of the GPS system that's one of the few major presences the two men interact with. However, as Cynthia's powers are cut off in Denver's winding hills, their toxic tension melts away over the possibility of being lost in the wintry roads.
Needless to say, Huston is no stranger to playing despicable jackasses, and he's in prime shape here, a fourth Tolstoy outing with Rose (others including Ivansxtc, The Kreutzer Sonata, and Two Jacks), as usual, managing to fashion his entire being into an unlikeable presence, his pinched mouth a veritable weapon akin to a squid's beak. Basil is the modern capitalist monster, one bit of dialogue citing an allegory of the Earth as a body and Basil as a blood disease. As his mousy counterpart, the unfailingly inept Nick is equally frustrating, and Jacobs (perhaps netter known as a screenwriter, and he actually penned Rose's film, Paperhouse) plays distracted and desperate quite believably.
Filmed with a handheld camera, there's an intimate, if sometimes resoundingly cheap feel to Boxing Day, like some viciously cruel video diary allegory of the haves and have nots. Reaching a tragic crescendo that may stretch the limits of believability, Rose's adaptation manages to play viciously with the metaphor indicated by its title, which refers to the day after Christmas, when either the working class or the needy customarily receives gifts from employers or others with material goods to spare. Fans of Rose, who seems to have left behind his genre days for high art inspired indie cinema, and the evil side of Danny Huston should definitely find much of interest here, even if the film itself looks rather unremarkable.
Reviewed on June 20 at the 2013 Los Angeles Film Festival – International Showcase