The Mind Benders: Cronenberg Returns with Eerie Exercise of Mind/Body Horror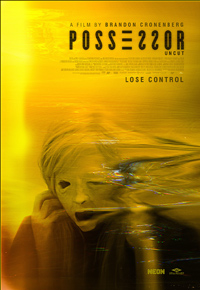 Eight years after his 2012 debut Antiviral, Brandon Cronenberg returns with Possessor Uncut, an intriguing, artistically inclined melding of mind and matter which conjures the significant legacy of his father, David Cronenberg.
Secret organizations and clandestine operations provide the framework which utilizes a similar perversion of objects and humanity as in the horrific Videodrome (1983). But now set in a world so hopelessly interconnected through virtual environments wherein the notions of identity and free will have mutated into something sinister and otherworldly in their manipulation and mutability, Cronenberg finds a new avenue of invasion and violation. A formidable combination of Andrea Riseborough and Christopher Abbott adds to the narrative's cerebral intensity in an offbeat combo of familiar genre tropes driven to logical conclusions.
Tasya Vos (Riseborough) is the most skilled and specialized agent working for a top-secret organization using brain-implant technology to infiltrate other people's bodies to commit assassinations. As her consciousness is extracted from the host body, she kills the receptacle, so the contracts always look like wholly bizarre and unrelated murder suicides. Except, Tasya has begun to have difficulty with the last part, because if the host body doesn't die, she can inhabit it longer and avoid returning to a life and an identity she seems interested in escaping from, always wanting to crawl out of her own skin, so to speak. Recently estranged from her husband (Rossif Sutherland), who wants to try and repair the relationship for the sake of their young son, her off-time at home only makes her desire to return to work stronger despite the physical toll of her duties. Though her boss Girder (Jennifer Jason Leigh) notices some strain, she seemingly looks past it because she is grooming Tasya to be her successor as the omnipotent coordinator of other agents. But the next important assignment involves an emasculated working-class man named Colin (Christopher Abbott), the fiancé of Ava (Tuppence Middleton), whose father John (Sean Bean) is the head of a data mine empire. A party who wants Ava and John dead to inherit a fortune finds Tasya inhabiting Colin—but she doesn't have any real immediate intention of leaving his body behind.

Possessor Uncut is the nightmare version of something like Ready Player One (2018), where avatars can be the physicality of others and used for nefarious purposes. Cronenberg wisely steers clear of definite answers regarding the exact parameters of two distinct possibilities, the organization run by Jennifer Jason Leigh's Girder (who, of course, starred in David Cronenberg's 1999 title eXistenZ) and the data mine corporation of Sean Bean.
None of these players are readily likeable, but an odd juncture happens through the melding of the Riseborough and Abbott characters—both are subservient in their relationships, while Tasya's infiltration of his essence allows for her ability to maintain the power afforded both masculinity and anonymity. These are B-movie tropes, to be certain, but used in effectively intelligent ways (think the mind-fuck experiments of Joseph Losey's sci-fi melodrama The Mind Benders, 1963). Cronenberg pushes the boundaries through significant visual cues, such as Tasya seeing herself with male genitalia in a sex scene with Tuppence Middleton. We learn she's really been 'acting' through her own role as wife and mother, a part she no longer wishes to play. The twists and turns of her extraction from Colin utilizes a formidable deep think on the part of her boss, bringing the narrative full circle through a repeated ritual of object association, wherein the emotional projection placed upon them is evaporated through the troubling negation of them.
While many more contemporary films have played with the idea of using human bodies like puppets to commit criminal acts (like the underrated The Hidden from 1987 or, for a silly approximation of these themes, the insipid Stephanie Meyer title The Host, which Andrew Niccol unwisely tackled in 2013), Cronenberg creates a thing of wicked beauty with his sophomore effort, a troubling exercise which glistens with the sweat and blood of ideas strained through flesh.
★★★★/☆☆☆☆☆