Gravitational Arch of Men: Teenage Friendship's Last Hurrah Found in Walsh's Scottish Techno Crowd-pleaser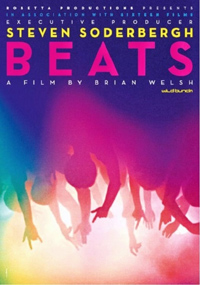 Simultaneously a nostalgic throwback and a vibrant, youthful anthem of rebelliousness, Beats knows exactly the right ingredients to make a track successful, but is also wise enough to add some soul to its pounding rhythms, courtesy of a perfect pairing of central characters and performances. It elevates the profile of writer-director Brian Welsh, who draws on his first-hand experience of Scotland's techno scene in the 90's to tell the story of two young kids eager to belong to a community that's already fading away in a changing Great Britain. Albeit personal and never less than passionate about its subject, Walsh's second feature is also unabashedly charming and engineered to please, turning up the emotional volume to make sure the audience is always on board with this journey towards the last great rave.

It's 1994 in West Lothian and best pals Johnno (Cristian Ortega, here the out-of-his-depth straight man with a lot to lose) and Stanner (Lorn Macdonald, an agent of chaos wrapped in fierce vulnerability) are on the phone in their respective rooms, sharing their enthusiasm for the latest techno track on the radio. They live within shouting distance of each other, but Johnno's parents are intent of changing that and taking the kid far away from what they consider a 'scum' family, mostly referring to Stanner's criminal older brother Fido, but certainly also uncomfortable with the younger kid's influence on mild-mannered Johnno. Still, the friendship between the two is real, as is their passion for a music – and a culture – which seems like the only thing in their life not heavily regulated or depressingly hopeless. With the government passing a new law aimed at killing the culture of rave parties, and with forces outside their control trying to put an end to their friendships, the two fifteen-year-olds decide to put everything on the line to finally attend a real rave.
With something of Shane Meadows' This is England (2007) in its light-hearted and nostalgic approach to a British subculture of the past, Beats smartly operates on two levels, managing to provide all the excitement that a generation of adults will surely feel in getting a celebratory dive back into this era and this world, but also accurately suggesting the cultural subtext of a country in flux, with characters of all ages – not just the kids – clearly struggling with the status quo. The 'New Labour, new Britain' claims by a youthful Tony Blair are often glimpsed on TV screens, and Walsh milks this peculiar mixture of things that are about to end (a music culture but also a political era, as well as a truly authentic friendship) and things that are about to start (a massive cultural shift, and a new scary adult life on the horizon) for all its worth.
Ortega and Macdonald are right in the middle of that, body and faces plastically twisted by fear, excitement, and drug-induced stupor alike in the film's lively black and white cinematography. Beats keeps pointing them towards their great destiny, and the script does a remarkable job of investing the trip with emphatic finality, inexorably upping the stakes until the big climax so that the kids' 'go-for-broke' attitude feels actually and utterly justified. And yet the biggest writing accomplishment of the Walsh-Hurley duo (Hurley wrote the 2012 play that the film expands on) may be the understated, earnest depiction of the quietest moments in a friendship sometimes bordering on queer territory. In a story about movement and excess, full of humor and expertly painted in broad strokes whenever necessary, there's something to be said for the care it reserves to a simple touch between two boys lying down – exhausted, happy, and aware of themselves.
Reviewed on February 1st at the 2019 International Film Festival Rotterdam – Voices section. 96 Minutes
★★★★/☆☆☆☆☆