Brillo Box (3ȼ Off) | Review
What is Art Now? Skyler's Personal Take on Warhol is Both Sincere & Insightful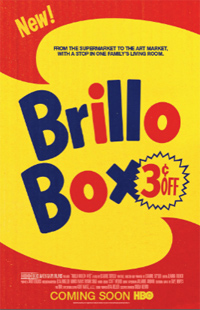 Though the merits of pop artist Andy Warhol are still debated to this day, Lisanne Skyler (Getting to Know You, 1999) tells a different story of the maverick that manages to be surprisingly whimsy throughout. The pursuit of a fond family memory reveals a truth about the madman and his methods and also the role and current value of pop art. Already shortlisted for the 89th Academy Awards for Best Documentary Short, Brillo Box (3 ¢ Off) presents a parallel tale between the journey of a specific sculpture and the ever-evolving attitude of the art world.
Via some quirky narration by Skyler and crafty editing, this relays how the director's parents had bought an Andy Warhol "Brillo Box (3¢ Off)" sculpture in 1969 for $1000. Throughout her interviews with her parents, multiple historians, collectors, critics and artists, she skillfully employs family photos and stock footage of the art world's dismissal of Warhol's exact replicas of Brillo soap pad shipping cartons. When the sculpture left Skyler's living room in 1971, it would take an intriguing and extraordinary trip which would conclude 40 years later when the piece sold for over $3million at Christie's in New York.
As a brisk 40-minute snapshot into the filmmaker and pop art's pasts, the docu creates a refreshing dynamic in which Warhol's art takes on new life. Skyler makes it quite easy to connect significant points of time in art history to her family's history, harnessing tactful cross-cutting of each stop on the Brillo Box's trek in tandem to personal memories and a cumulative retrospect by contemporary minds on pop art. Minos Papas, Lisa Rinzler, and Byron Shah create a lush palate of images with their sharp and attractive cinematography and wide area of coverage (possible by the many camera operators credited), made ever more captivating by colorist Andy Lichtstein. Skyler summating so many stories is only made more impressive by the other artists she worked with to create this undeniably enjoyable work.
Never overbearing with its artistic opinion, informative to where even experts on Warhol could learn something quite new, Brillo Box (3 ¢ Off) postulates among the memories and art collectors that contemporary art is and has always been about selling. Andy Warhol's ability to see artistry in the inane and the regular, and express how he felt about it in his own sardonic way ultimately has come to personify the deep desire an artist has to make something appealing to be bought.
★★★★/☆☆☆☆☆