Shapiro Follows Honey Trail; Enigmatic Shavitz is the Bee's Knees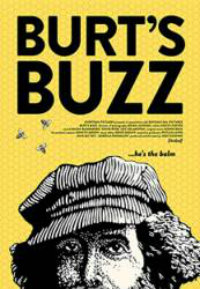 The bearded-face of Burt's Bees, a pioneering company in the commodification of "all-natural" personal care, is not an imagined icon slapped onto distinctive yellow packaging, but the likeness of founder Burt Shavitz. Documentarian Jody Shapiro (How to Start Your Own Country) draws an intimate portrait of the lesser-known man behind the brand in Burt's Buzz. The project, suggested and produced by Isabella Rossellini, never exoticizes the 76-year old recluse, but thoughtfully approaches his contradictory public and private life. Hardly resting on the unaided appeal of his strangely charming subject, Shapiro frames emotion and wry humor with subtlety to create a layered, lively documentary.
Somewhere in the backwoods of Maine, Shavitz looks at the camera and says "I got granola in my teeth should I get up and wash my mouth out", introducing the steady stream of unusual hilarity to follow. It is impossible to distinguish intended quips from instinctive reactions, but the unflappable straight shooter is unexpectedly funny. When asked if he will be needing internet access, for instance, Burt replies "like a hole in my head".
Living without electricity or hot water, Burt enjoys target shooting, manning his land and the company of a golden retriever. Not quite what you would expect from the founder of a billion-dollar business, but Burt has everything he needs. His 400-square-foot cabin is cluttered with "his own personal peculiarities", in the words of his patient assistant Trevor. Among the hoard of flee-market-finds is a cardboard-box of forgotten 1960s street photography.
Fresh out of the army, Burt was giving himself daily assignments – photographing bums in the Bowery, kids in fenced in playgrounds and Yemenite Jews wearing handmade Yarmulkes. The latter landed him a job at Jewish Weekly and his published work earned him a Time Life press pass to photograph Malcolm X, Kennedy and Allen Ginsberg. Through these images, Shapiro recommends the influence of a man who considers himself an "evolutionary rather than revolutionary" and reaches towards a remarkable past to round out his character study.
After escaping his noisy Manhattan hometown, Burt serendipitously stumbled across a cluster of bees and began selling honey from the tailgate of his pickup truck. He then met Roxanne Quimby, a hitchhiker who apparently "chopped wood and carried water in a bucket", which is high praise from Burt. Their romance quickly faded into a business partnership, but her entrepreneurial strides left a lasting emotional wound. The artist and struggling single mother made candles from beeswax recipes found in 19th-century almanacs before realizing the lucrative potential of well-marketed personal care products. Their growing co-owned company relocated to North Carolina and was eventually bought by Clorox in 2007.
Burt was shoved out of the company years before the windfall and now profits only from promotional appearances. Though his awkward detachment during a product launch in Taiwan is entertaining, Shapiro stresses the chaotic absurdity of these publicity events as contrast to the calming slowness of Burt spreading bird-seed or building a fire. The accomplished pacing contributes to a certain dichotomy between reality and appearance that Burt's Buzz ultimately unveils with far-reaching relevance.