Reviews
The Fault in Our Stars | Review
Never Having to Say You're Sorry: Boone's Adaptation Jerks Your Tears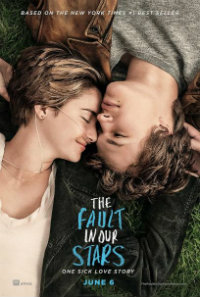 Director Josh Boone adapts John Green's popular 2012 novel The Fault in Our Stars for the screen, and he's got some big shoes to fill. Named Time magazine's number one fiction book of the year, and lauded as "the greatest romance story of this decade" by Entertainment Weekly, it seems the type of tragic romance geared to overshadow the footsteps of Erich Segal's Love Story and Nicholas Sparks' A Walk to Remember. And, to be honest, who isn't moved by love crossed teenagers, especially if they also happen to be assailed by the shadow of time crunching cancer in every frame? To his credit, this adaptation is heads above Boone's execrable directorial debut, Stuck in Love (2012), which centers on an erudite family amidst disjointed unification of love and literature. In a laudable attempt to seem heartfelt without blatant manipulation, the film generally succeeds, thanks especially to a winning performance from Shailene Woodley. Yet it can't escape its own set of particular faults in its own starry formulations, particularly as it descends into its teary landing that begins to feel aggressively insistent on wringing tears from its audience.
Forced to tote around an ungainly oxygen tank, Hazel (Shailene Woodley) informs us that she's 17 and suffering from stage four thyroid and lung cancer. She's lucky to be alive, in fact, and nearly succumbed to the disease as a younger child, but her body happened to respond to a treatment unsuccessful for many similar patients. But the thought of death hangs heavy on her, which causes her loving mother, Frannie (Laura Dern) to goad her daughter into attending therapy sessions with other cancer patients. In a church basement, she meets with a group run by cancer survivor Patrick (Mike Birbiglia), and ends up meeting a handsome young man, Augustus (Ansel Elgort). After a meet-cute situation, they chit chat and flirt and eventually fall head over heels in love with one another. But Hazel's predicament seems to hover consistently over dire straits, and she's unsure if she should continue a relationship with Augustus knowing she may not have much longer to live.
Courting criticism within its opening moments when Hazel's narration informs us matter-of-factly that "this isn't a movie," rather "the truth" that will fly in the face of the tearjerker cancer subgenre. Though it's a bit of grating hubris, for its pedigree, the film makes a concerted effort to live up to this prophecy, even though it gets away from itself.
The film is indebted to Woodley's moving performance, which feels neither forced nor melodramatic. It's the sort of high caliber vehicle that makes her presence in the Divergent series seem wholly unnecessary. With recent work in films from James Ponsoldt and Greg Arakki, outside of the Veronica Roth adaptations, she seems to have a knack for choosing intelligent, provocative material. Likewise, Boone gets an excellent supporting turn from the lovely Laura Dern as Hazel's mother. They share a handful of moving sequences together, their onscreen relationship playing more honestly than that of the one transpiring between Woodley and Ansel Elgort. While they played siblings in Divergent (which lends the casting here a rather bizarre pallor), they share a likable degree of chemistry. But, increasingly, Elgort is simply performing an exaggerated version of an elaborate fantasy, always played to inspire heartfelt exclamations and cutesy giggles. When an obvious twist is at last revealed, The Fault in Our Stars hits a slump, coasting into terrible inevitability, thereby saying goodbye to its opening proclamations.
Along the way, an annoying performance from Nat Wolff (Admission; Palo Alto) is played for clunky comic relief, which only tends to mar the steady, even keel that Boone allows to naturally develop between the two leads and their autumnal romance. A leaden Willem Dafoe appears for a pair of scenes that seem highly improbable in both instances, a catalyst for the film's departure into soapy schmaltz. In comparison to their other credits, which include 500 Days of Summer and The Spectacular Now, this latest from screenwriters Scott Neustadter and Michael H. Weber does feel considerably less polished, as if weighed down by the significant source material.
While the film's technical credits take a back seat to the storyline, the convenient soundtrack, featuring Lykke Li and M83 sometimes feels a bit too handy for the sake of seeming entirely genuine. Despite these deficiencies, The Fault in Our Stars will no doubt be appreciated within a core audience willing to forgive such slights and eventual heavy-handedness.
★★½/☆☆☆☆☆