Reviews
Byzantium | TIFF 2012 Review
My Favorite Sister Daughter: Jordan Hits Up the Lady Vamps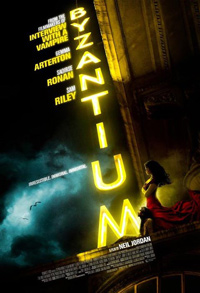 Boy it's hard to add anything new to the vampire genre, once a horror staple and breeding ground for some delightful, classic thrills, now turned into trash cinema romantic fantasies glutting the multiplexes. Neil Jordan, no stranger to creatures of the night with his troubled 1994 adaptation of Interview With the Vampire deserves some credit for his latest film, Byzantium, which may not revitalize the undead, but certainly retains a certain interest and seriousness in tone. In fact, it's refreshing to see uncontrollable desires actually treated as such, though an attempt at gender divisions amongst vampires (revenants, in this picture) hardly gives it the satisfying energy it needs.
Eleanor (Saoirse Ronan), a mousy introvert, frames our narrative, a young girl keenly interested in telling the tale of her woeful existence. For the last 200 years, she has had to move from place to place with her older, sexual vixen of a "sister," Clara (Gemma Arterton), always forced to flee due to their unfortunate disposition as revenants. At each stop, the lonely Eleanor writes her story, then tosses the crumpled pages of it, one by one, to the wind. It seems vampires, after some time, can't resist sharing stories of their diabolical existence. Clara's more colorful past catches up with her when the member of a pack of revenants hunting them (Thure Lindhart) finds her, and they must flee to an English seaside community. Once there, Eleanor is courted by Frank (Caleb Landry Jones), a pale, sickly waiter at a nearby restaurant and Clara takes up with a bereft young man that owns a dilapidated hotel called the Byzantium, which Clara aims to turn into a profitable brothel (her previous career). Meanwhile, Eleanor takes a creative writing course. Slowly, we learn more about the ties that bind them, why they are being hunted, and we learn of a mysterious cave somewhere in Ireland which houses an ancient evil. It's not long, of course, before Clara and Eleanor face a reckoning.
Neil Jordan is not trying to reinvent the vampire mythos with Byzantium, but he does manage to give us something that tries to be new and different, and while it's predictable, sometimes manages to be engaging. Ronan is clearly attracted to the macabre and Gothic, and she's a nice touch here as our protagonist. However, it's Gemma Arterton who steals the show, a young girl during the Napoleonic Wars dragged into a degrading existence of prostitution by an ill meaning soldier (Jonny Lee Miller) who later receives a stab at vengeance when his kind friend (Sam Riley) returns with a secret. She's sexy, bitchy, and lethal, exactly the kind of presence lacking from many a recent genre effort.
Jordan is a filmmaker that loves characters that have transformed from their original state of being, and besides vampires, he's often given us representations of transsexuals, transvestites, and even mermaids. He does quite well in creating a moody, Gothic atmosphere with Byzantium, and though it's undeniably stylish, ends up feeling a tad transparent. Some of the best moments involve the mysterious and thankfully unexplained cave in Ireland, where rivers of blood cascade down the mountain, signaling the birth of new monsters. It's unfortunate that, overall, it fails to make something of a lasting impression, and depending on your patience with the material, you may write it off as been there, done that.
Reviewed on September 9 at the 2012 Toronto International Film Festival – SPECIAL PRESENTATIONS Programme.
118 Min.