Cam a lot: Soisson's Stilted Thriller as Dated as it is Laughably Inarticulate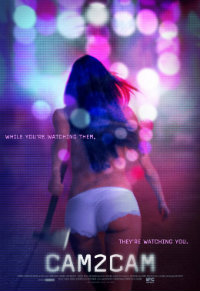 The only thing horrifying in Joel Soisson's techno born thriller Cam2Cam is the awful grammatical chatroom communication utilized by its sublimely half-witted characters. Even in the twitter age where the systemic butchering of language from rampant acronyms to abbreviations for our limited character space, these people seem simply primordial, especially considering that English is their first language. While Soisson's Bangkok based narrative certainly gets the locale right for a nexus of potential seedy strangeness, where sex tourism without any rational limits runs virulently unsanctioned, there's nothing else remotely inspired about any of the inane antics in a thriller that already seems behind the times in its tech lingo as concerns digitalized sex for sale.
A young American woman, Lucy (Jade Tailor) finds herself in Bangkok surfing a chat website, Cam2Cam. She gets friendly with another young woman that begins undressing herself. Lucy is interrupted from sexcapades by the annoying neighbor upstairs (Russell Geoffrey Banks) who wants to invite her to the party he's throwing. Declining his offer, Lucy goes back to her computer and her sexy conversation quickly turns eerie. Suddenly she finds herself alone and terrified in the apartment. Asking the upstairs neighbor to come in again to keep her company, Lucy meets a grisly end. Time passes by. Another young American female, Allie (Tammsin Sursok) rents the room that previously belonged to Lucy, and soon she too finds herself in the midst of a web cam community that has a dark secret.
Of course, a gaggle of indistinct aspiring actor/model types all reside in the same complex. True, they're a loosely interrelated group that shares a devious secret, but web performers don't necessarily have to all be in the same location. But consistency and/or logic can't quite be applied to the plot that seems to be made up it goes along. Cam2Cam has a discernable whiff of gaysploitation about it, from its opening moments where Lucy is baited by a slowly undressing female (never mind that it takes Lucy, like oh my god forever to realize that the person typing couldn't also be the one undressing so far away from the computer screen), to her sister's also apparent homosexual attraction to the pseudo-vixen Marit. But as the narrative unspools, its tenuous narrative disintegrates, leaving Tammsin Sursok to scream plaintively, "Am I wasting my time?" The laugh is that's probably what you should be asking yourself if you insist on staying through the end credits.
Cam2Cam's rudimentary grappling with the inherent dangers of online prostitution and the false security of interacting via digital platforms already seems about a decade behind the times, though it's title will most likely elicit laughs akin to current discussions about that 1996 Sandra Bullock thriller, The Net.
Between her performance here and the incredibly unpleasant 10 Rules for Sleeping Around, Tammsin Sursok proves to be inherently unconcerned with a building a resume on the foundation of unwatchable titles. Longtime producer turned director Soisson has turned from direct to video sequels like tail end titles from the Prophecy and Children of the Corn for his first original outing. Usually that's a move that yields a bit of innovation.
½/☆☆☆☆☆