Reviews
Caprice | 2016 My French Film Festival Review
You Will Love a Tall Blonde Actress: Mouret Plays a Man Most Wanted in Latest RomCom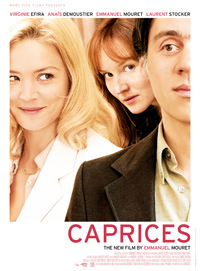 Perhaps what's most refreshing about actor/writer/director Emmanuel Mouret's latest effort Caprice is how equally unlikely it presents the maddening scenario of a nebbish male romantic lead courted aggressively by two incredibly attractive women. A lighter, Gallic equivalent of the type of masculine steered ménage a trois we've grown accustomed from Woody Allen, this treatment manages to feel equally effortless but not entirely effervescent. A series of coincidences sets off a sexual comedy of errors involving a quartet of enjoyable performers, though all is eventually for naught since none of them are exactly likeable, a problem considering they're trapped in a romantic comedy paradigm necessitating we grow interested or even attached to at least one of their outcomes.
Clement (Mouret) is a shy, unassuming fifth grade school teacher, divorced and sharing joint custody of his preadolescent son. He's an avid theater attendee, and his handsome features have attracted the attentions of a young woman, Caprice (Anais Demoustier), who seems to keep seeing the same shows. But a chance meeting with lauded film and theater star Alicia (Virginie Efren) finds Clement eager to court the blonde beauty, who responds in kind. But Clement's boss and best friend Thomas (Laurent Stocker) also lusts for Alicia, and when Clement shares a drunken interlude with Caprice after he's begun dating Alicia, matters get complicated quickly.
Mouret, who's been starring in his own features since his 2000 debut Laissons Lucie faire!, is probably best known to English speaking arthouse crowds for 2007's Shall We Kiss?, which co-starred Virginie Ledoyen in a narrative concerned with the consequences of one's romantic attachments on the other person. This time around, Mouret navigates more familiar territory, depending on the comedic energy made possible when an unlikely male finds himself involved with a beautiful, highly sought after woman (weirdly recalling Mighty Aphrodite, even though Efira is an actress and not a prostitute), who believes she is destined to find love with any man not in her profession based on the advice of a psychic. Of course, this is bizarrely complicated by Alicia's attraction to Clement's boss, an even more dubious Laurent Stocker, and the eventual return to the narrative of the titular Caprice.
What's perhaps most problematic about Mouret's scenario is the rather tragic denouement of its melancholy, eponymous character, an ingénue who's yet to discover her own self-worth, fixating on a man she believes to be her intellectual or professional superior. Demoustier remains the most transfixing onscreen personality, but we're not led to understand anything about her beyond this eventually annoying obsession with a dry, insistently dull fifth grade teacher. In many ways, her performance recalls an aggressive version of the character portrayed by Isabelle Huppert in her 1977 breakout role, The Lacemaker from Claude Goretta, but Mouret strays clear of despair with a truncated finale and a convenient fix for all involved.
Virginie Efira, reminiscent here of a self-involved role we'd expect to see played by Katherine Heigl in an English language version, is unable to establish chemistry with either Mouret or Stocker. Worse, Alicia is a vain, unlikeable creature, as self-obsessed as Caprice is self-effacing, but why either of these two women would convince themselves of their attraction to Clement is where Caprice fails (not to mention a strange lack of screen time between Clement and the son he has from another marriage).
Though its poster art screams Vicky Cristina Barcelona, Mouret's Caprice is a less enthusiastic derivative of Allen's usual predicaments with Eros, and, sans Demoustier, a bit too one dimensional to warrant more than superficial comparison.
Reviewed on February 11 as part of the 2016 My French Film Festival – 98 Mins.
★★½/☆☆☆☆☆