Reviews
Careful What You Wish For | Review
Imitation of Life: Rosenbaum Bastes Noir Tropes in YA Sheen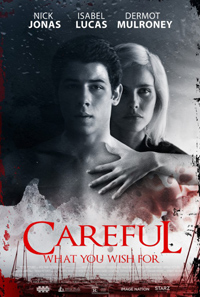 Director Elizabeth Allen Rosenbaum seems dangerously preoccupied with fashioning ill-suited screen personas for pop stars, a trend she continues with her first adult themed film, the feeble neo-noir Careful What You Wish For. A decade ago, she launched her career with Aquamarine (2005) starring Emma Roberts and Jojo before moving onto Ramona and Beezus (2010) with Selena Gomez. Now, she employs Nick Jonas in his first leading performance as a lusty, pre Collegiate bar back whiling away his last days of freedom at his parent's summer home while engaged in a sleazy romance with a trophy housewife who's married to a badgering, wealthy alcoholic. With its flimsy narrative foundation further highlighted by several overqualified supporting cast members, this cascade of clichés slogs through mercilessly predictable beats before a ludicrous twist caves into an illogical finale.
Doug Martin (Jonas), a soon-to-be engineering major at Columbia, has agreed to spend the summer bussing tables in the sleepy town where his parents have their summer home. With sights set on a season of carousing with best bud Carson (Graham Rogers), Doug finds himself unexpectedly transfixed with Lena Harper (Isabel Lucas), the sultry wife of his parents' next door neighbor, Elliot (Dermot Mulroney), a wealthy businessman who employs Doug to fix the engine on his boat. Lena fritters away her days posing nude in doorways and open windows, which leads to a passionate affair with the impressionable young man. But Lena is desperately unhappy, revealing Elliot to be an alcoholic, abusive monster. When tragedy strikes, Lena calls on Doug for assistance, and he doesn't seem to realize the consequences of the suddenly precarious situation he finds himself in.
Audiences having even the slightest familiarity of film noir will instantly recognize the formula at work in Rosenbaum's film, and Chris Frisina's uninspired script lifts freely from the treasure trove of Double Indemnity (1947) and Lawrence Kasdan's modernized dead ringer Body Heat (1981). But Careful What You Wish For is nowhere near the same league as these references. While there's a certain tawdry energy to certain teen dream rehashes of once inspired material (Cruel Intentions, perhaps), Rosenbaum succeeds in making a potential James M. Cain The Postman Always Rings Twice rip-off into something nearly as risible as Jennifer Lopez headliner The Boy Next Door (2013). DP Rogier Stoffers, lately in charge of low-fi Neil Labute efforts (Some Velvet Morning, Dirty Weekend) never manages to make this more than a sun-dappled cheapie you'd expect to see on late night cable.
While Nick Jonas isn't absolutely worthless in his first leading role (he fares better than Rosenbaum's front and center stunt casting of Selena Gomez, for instance), he's never allowed to register as more than merely routine (Andrew Neel makes much more inspired use of him in indie drama Goat as a supporting accent). Rather, he seems more the experienced lothario who would know better than to be wooed by the likes of the troubled waif bait played by Isabel Lucas (as usual, in her one-skipped-meal-away-from-fainting mode).
As far as discernible chemistry goes, there is none, and sequences where Jonas is supposedly ogling the usually naked Lucas through windows or outdoor showers too obviously play like cheap titillation. Only seven years his senior, Lucas doesn't have the seductive acumen to justify her casting, especially not as a manipulative housewife who can convincingly fool a Columbia bound, (and for all accounts, levelheaded) privileged male into disposing of a murdered corpse, and this would seem to be yet another miscast entry on a resume which already features some doozies (like The Loft).
Paul Sorvino, and particularly Dermot Mulroney (this, paired with his recent appearance in Dirty Grandpa should be grounds for new representation) are wasted in throwaway bits, while poor Kandyse McClure bears the brunt of derision in an Edward G. Robinson fashioned insurance investigator role. Cheaply assembled, Careful What You Wish For is another slapdash, subpar rehash plumbing the depths of what it means to be derivative and doesn't even have the good sense to be entertaining even as it rapes the considerable reputation of its narrative origins.