Locked Out of Heaven: Haynes Delivers Chilly Lesbian Romance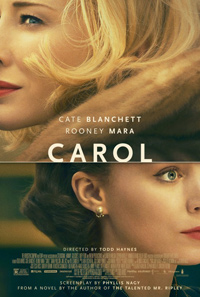 Todd Haynes makes an exciting return with Carol, his first feature film since 2007's I'm Not There. A lavish period production design of 1950s New York finds the director returning to similar territory as seen in Far From Heaven and his mini-series remounting of "Mildred Pierce." But whereas those films borrowed significantly from famous film texts, Haynes adapts a 1952 Patricia Highsmith novel, published under a pseudonym and described as a novel about persecuted love. Chilly, especially in comparison to the heterosexual classic Brief Encounter, of which the opening sequence has drawn reference to, Haynes has constructed a tightly wound ball of desire that is never given the opportunity to unravel.
In 1950's New York, Therese Belivet (Rooney Mara) works as a department store clerk, though she has aspirations of being a photographer. Trapped in a one sided romance with her boyfriend (Jake Lacey), she is immediately fascinated by a customer one day at the store, a beautiful society woman, Carol Aird (Cate Blanchett). Circumstances allow the women to pursue a friendship and their obvious desire for one another. However, Carol is in the midst of a bitter divorce from her husband Harge (Kyle Chandler), a man jealous about Carol's pattern of attraction to women, particularly Carol's old flame, Abby (Sarah Paulson). As these two women becomes invested in one another, Therese begins to discover sides of herself previously unknown.
Bringing the novel to film in 2015 seems a curious endeavor, and while the film is pristine, with returning DoP Edward Lachman from Far From Heaven, this once subversive text feels antiquated in this presentation. A majority of the film resides in cool, muted greens, recalling the queer spaces of "Heaven," with brief flashes of vibrant reds, generally seen when Blanchett's feline seems to be on the prowl. Therese is pictured constantly looking out of rainy or speckled windows, always boxed neatly into a car, behind a counter, and into her appropriate class. But as portrayed by Rooney Mara, she's never given a chance to be anything more than a big eyed kewpie doll, an echo of the Clara Bow "It" girl with bangs creepily reminiscent of Carol's young daughter. Haynes never closes in on their passionate entanglement, though this is partially meant to convey Therese's coming into her own identity.
As the titular object of desire, however, one could easily drink an exquisite Cate Blanchett up from the screen. Ravishing, she's an actress that we easily believe hails from the period. It's a pity that no chemistry is able to be built between their characters, a lacking substance from their very first encounter at the department store. Likewise, the stakes are never really high enough as concerns the possibility of how Carol's sexuality will be used against her in order for her husband to keep custody of their child. We should feel a certain terror as there would have been more consequences in store for Carol besides just losing the child—she would inherit a social disease. With things wrapped up on that end too neatly, Harge's bark being worse than his bite, it also steals the thunder away from the developing relationship of the women, including Sarah Paulson's Abby, a strange, elusive figure Carol is able to dispatch at random.
Had this been adapted in a previous age, the language surrounding the women's affair would have been coded, nothing revealed for certain, like the direct reference a character makes in the film to Sunset Boulevard. In our more enlightened times, their cinematic representatives engage in a mild love making sequence, their sexualities freely acknowledged, at least to the audience. And yet, Therese and Carol make for a completely lackluster pairing.
The novel, hailed for its ending, was miles away from similar queer literature of the period. The final sequence in Carol is equally nuanced and incredibly haunting. If only the development of their relationship didn't feel so emotionless.
Reviewed on May 16 at the 2015 Cannes Film Festival – Main Competition. 118 Mins.
★★★/☆☆☆☆☆