Charcoal | 2022 Toronto Intl. Film Festival Review
Business (Wo)Man: Rural Brazil Opt to Pray & Prey in Markowicz's Debut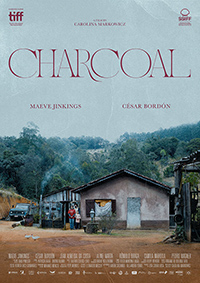 If God isn't listening, maybe the devil is. It's a compelling idea, and one of a handful competing for attention in writer/director Carolina Markowicz's feature debut Charcoal. Set up like a thriller but unfolding like a shaggy dog story, the film is abundant in thematic and metaphorical concepts. And while they never quite cohere to achieve the smoldering tension the title suggests, Markowicz's knack for unconventional storytelling and the film's central performance by Maeve Jinkings keeps viewers lured to a world ruled by secrets and adaptable morals.
If it weren't for the oxygen mask strapped to his face, you might think the elderly Firmino (Benedito Alves) was dead. As far as Irene (Jinkings) is concerned he might as well be. Her father's frail health is just one more problem to deal with as she strains to keep her household running during the off season of the charcoal production business that leaves her husband Jairo (Rômulo Braga) with little to do and even less money coming in. With few to turn to in rural Brazil, Irene seeks counsel from her pastor, gently suggesting that perhaps Firmino would be better off if he was assisted into the next life to ease his suffering. The pastor counters with a meek platitude — "God is healing" — and sends Irene on her way. What Irene didn't tell him is that a deal with the devil is on the table. A new nurse, Juracy, has arrived to care for Firmino and has made Irene an offer: she'll assist in moving Firmino to the next world in exchange for hiding an Argentinian drug kingpin who needs to lay low in their home.
Having faked his own death and killed almost everyone in his circle, Miguel (Cesar Bordon) has carefully arranged a new life abroad where he can put his drug dealing past behind him. What he hasn't been told by his fixers until he's ready to leave is that he'll have to spend some time in the countryside first. "It's a period for you to be forgotten," it's explained to him. It's in this fog of upended expectations that Miguel walks into Irene and Sergio's humble home. It's a far cry from the luxurious lifestyle he's used to, as he's sent to bunk with the couple's young son Jean (Jean Costa) and given Firmino's old bed, still smelling faintly of the feces that leaked out of his diaper. Juracy, his only connection to the outside world, keeps the rules simple: don't be seen and stay inside.
It's in this purgatorial state that Markowicz gently shifts the film into a slow-burning hothouse drama. Miguel almost acts as a subterfuge for the filmmaker to explore the tension lurking beneath the thin illusion of Irene and Jairo's domestic bliss. Each is harboring clandestine desires that could be explosive if revealed. Meanwhile, the unflappable Jean cleverly finds a way to turn the situation to his advantage, while forging an unexpected friendship with a man who would rather be anywhere else. As for Miguel, he bides his time with a bag of cocaine and fraying patience, waiting for Juracy to give him deliverance from the situation. The director plays loose with point of view, letting it slide where it needs to, but always keeping Irene in the middle of the centrifuge, with Jinkings steely performance anchoring the picture.
With the documentary short "69 – Luz Square" and short "The Orphan," Markowicz has previously shown a keen interest in the stories of marginalized people — sex workers and queer adolescents, respectively — and she continues in that lane with Charcoal. Weaving a story centered on people of few means and even fewer opportunities, she works with editor Lautaro Colace to capture the unhurried rhythms of small town life, while the photography by Pepe Mendes is both bucolic and intimate, detailing the tight-knit community relationships that are forged under vast skies and landscapes. But this is also what keeps the picture at odds with itself for much of the running time. It's a thriller without a ticking clock, and a drama juggling religion, illicit relationships, moral corruption, and spiritual hypocrisy with a framework that's too slack even for the aesthetic accomplishments to bridge.

Eventually, the movie meanders its way toward a climax that offers a surprise, shock twist, one that clearly and finally illustrates the shortcoming at the heart of Markowicz's film: it's a pointed thematic statement that feels wholly unbelievable narratively. Ultimately, in building the kiln for Charcoal, Markowicz has conjured a tale that's elusively more smoke than heat.

Reviewed on September 18th at the 2022 Toronto International Film Festival – Platform. 107 Mins.

★★★/☆☆☆☆☆