The Silent Twins | Review
Sistas With(out) Voices: Smoczynska Revisits Case Study of Antisocial Twins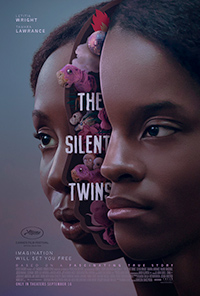 Poland's Agnieszka Smoczynska makes her English language debut with third feature The Silent Twins, based on British journalist Marjorie Wallace's 1986 expose on June and Jennifer Gibbons, identical Welsh twin girls whose dysfunctional development led to a spate of crime and eventual indefinite incarceration. In a tale where foreignness plays a key part in lack of understanding, since the Gibbons family were of West Indian descent, Smoczynska doesn't seem entirely inappropriate as a figure removed from either culture.
Based on her previous two films, there are intersecting similarities, such as the fantastical mermaid sisters of her celebrated debut The Lure (2015) and a woman suffering from memory loss struggling to accept the family who's reclaimed her in 2018's Fugue (read review). However, much like Wallace's text, which takes liberties in creating a third person consciousness for the sisters from childhood onward, the extravagant yet Smoczynska's overly mannered fantastical elements, meant to animate their interiority, tends to create estrangement from the subjects. Paired with Andrea Siegel's script, which is either sobering or morose, it's a dour affair despite attempts in production design.
June and Jennifer Gibbons were the second to youngest children of Gloria and Audrey Gibbons who moved from Barbados to Wales in the 1960s, their father part of the RAF and working as an air traffic controller. The only black family in the community, they kept to themselves, which might be part of the reason the twins quickly developed their own secret language with another as children, refusing to speak or make eye contact with anyone else, including parents and siblings. As eleven year olds, their secret world poses a problem for school administrators, and a therapist (Michael Smiley) is brought in for assistance. Since the girls still won't respond, they are separated briefly, but this worsens the scenario for both of them. Graduating high school (now played by Letitia Wight and Tamara Lawrence), the pair continue their secret world in their childhood room, obsessed with becoming published authors. After various rejections of their short stories, they decide to experience romance as a way to generate passion in their writing. They're soon obsessed with a local young man who introduces them to sex and drugs, but when his family moves away, their devastation spins out of control and results in a crime spree lasting several weeks, wherein petty theft, vandalism and arson ends with indefinite incarceration at Broadmoor hospital. The women spend eleven years languishing in the hospital until journalist Marjorie Wallace (Jodhi May), takes an intense interest in their rehabilitation and release.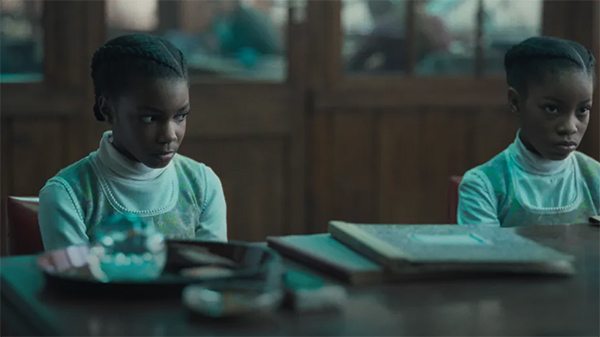 Every now and then, the unique personalities of June and Jennifer break through, mostly thanks to the performances of Letitia Wright and Tamara Lawrence. But seeing as they serve as one another's captors and saviors in a highly dysfunctional symbiotic attachment, the film's approach too demurely approaches them.
While the stop motion figures representing one of their obsessive imaginative periods from childhood does add visual flair, they're like the sweet spots in a dry pastry and too often feel reminiscent to something Peter Jackson did with the lesbian teen girl murderers in Heavenly Creatures (1994), also based on a true story. For what makes The Silent Twins so interesting is the identity crisis which was allowed to reach a point of no psychological return thanks to a host culture vastly under equipped with understanding them and a native culture who views twins as excusably strange. Smoczynska's version doesn't labour over Wallace's intentions of how the criminal justice system and an archaic healthcare protocol were the twin institutions sealing their fate. Instead, Jodhi May merely pops up as Wallace herself towards the finale, mainly to supply interjections and hand wringing. Some of the film's liberties seem odd, as in real life the young women were forced to undergo surgery for their speech impediment as a potential remedy for their behavior, while here the actors are forced to inhabit a particular speech pattern not directly explained.
The visual palette in their childhood years is a queasy world of green, with DP Jakub Kijowski (who lensed Smoczynska's past two features) sometimes channeling the toxic vibe of the sickly sitcom caricatures in Oliver Stone's Natural Born Killers (1994). Those who respond well to Smoczynska's animated textures will likely find this more of a novel experience, though sometimes these detract, such as visualization of a sequence in June's published novel, The Pepsi Cola Addict, in which her tortured protagonist drowns in a pool of the titular soda, furthering a silliness suggested by the title.
The incredible imagination of the twins is really the most fascinating element, having a creative capacity reminiscent of the isolated Bronte sisters. Smoczynska's soundtrack selection is also appealing, using tracks by T. Rex and Soft Cell to paint a mood, and even Christmas music from Boney M. Ultimately, the film's most compelling elements are downplayed or even obfuscated by visual accents, and The Silent Twins eventually feels like any number of psych ward subgenre melodramas.
Reviewed on May 24th at the 2022 Cannes Film Festival – Un Certain Regard. 112 Mins
★★½/☆☆☆☆☆