Spiral | 2020 Warsaw International Film Festival Review
Meandering with the Living and…the Dead: Felméri Offers Absorbing Sunken Lake Drama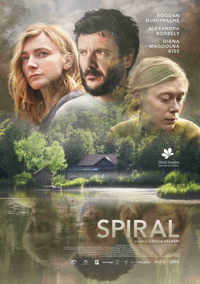 In Spiral, the dead don't come back, but rather, they attempt to haunt one's frail dreams. Cecília Felméri's mood-swinging horror drama debut unfolds in a fairytale lake setting — away from the strings of civilization and that is haunted by a ghastly curse, that slowly spreads its invisible thread and attaches itself to every thing that is living. Romanian classical literature is obsessed with damned places and the idea of purifying them by fire. In fact, there's a kinship to The Mill of Good Luck, Ioan Slavici's notorious novella about an ill-fated innkeeper who desperately tries to reshape a house into a hostel. Here the pond is both idyllic and horrifying, and features a couple who live and work, but no matter how much effort they put in, everything eventually falls to pieces.

The haunting itself is connected to an unsolved mystery. The pond is Bence's (Bogdan Dumitrache) legacy from his late father, who disappeared without a trace. Bence feeds off this tragedy, looking for a form of resolution. It is no wonder that, ironically, he buys hundreds of kilos of carnivorous, bulky catfish, which he nourishes habitually in the same spot, as they get both bigger, and stronger. Constantly alienating himself from his fiancee Janka (Diána Magdolna Kiss) and proposing in the most silent, ludicrous way, by just putting a ring on her finger, Bence is slowly pushing his significant other away. In a paradise now gradually decomposing, cowering between the dusty walls of his home, this grim creature is haunted both by a tangible loss and a sense of never belonging; his mind is a spiral in itself, an endless diving into a repetition of time and space.
In a similar vein to Romanian film Pororoca, with which Spiral has in commonalty in that the protagonist mourns the death of a loved one – in both cases played by Dumitrache – there are times when Bence's skeletal body seems to carry the weight of the entire world. In this respect, Dumitrache's flawlessly grieving shell from Spiral isn't less of a powerful ride, however in terms of narrative, it's almost impossible to pinpoint which territory this film will settle in. By constantly, almost arbitrarily adding surprise elements, Felméri shifts tone and genre, leaving the viewer either in awe or confusion – is this poetic realism, horror, drama, or all at the same time? This coalescence is overwhelming at times, despite the fact that so many sequences are absorbing and evocative, such as the interest of depicting seasons passing by, following nature's light and rhythm. One of the small hints that really embodies this is the recurring image of a Christmas tree, that transforms, throughout months of staying in one place, from an object of domestic warmth into a thing of trauma and deterioration. The vividness of details like this, in a feature that promises much more than it can handle at once, is something that truly stands out in Felméri's touch, making whatever flaws or excesses dissipate.
Reviewed on October 13th at the 2020 Warsaw International Film Festival – Competition 1-2. 98 Mins. Part of the The Fipresci Warsaw Critics Project.
★★★★/☆☆☆☆☆