The War with Grandpa | Review
Suffer the Children: Hill Strikes Out with High Profile Kiddie Flick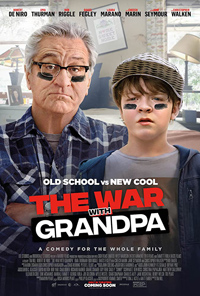 Tim Hill seems to know something about entertaining children, especially when it involves animation or puppetry, having spent over two decades as a director curating several memorable characters. The producer and co-creator of SpongeBob SquarePants, he's tackled the Muppets, Garfield, and Alvin and the Chipmunks (2007). But it's been nearly two decades since Hill has gone completely live action in 2001's Max Keeble's Big Move, so his latest venture, The War with Grandpa, which features a number of notable, award-winning cast members, seems more a testament to his reputation than the integrity of the material.
Clearly aimed at young tweens, an ungainly message about territory and entitlement barely masks the blatant privilege of its grating young leads, and ultimately wastes the significant talents of older cast members who, while a joy to see, are merely on hand for the eyes and attention of the guardians attending (or straming) the film alongside their children.
Ed (Robert De Niro) has had difficulty taking care of himself, having trouble getting around, now all alone in his home since his wife died. His daughter Sally (Uma Thurman) lives too far away to properly look after him so she invites him to come live with her family, which includes husband Arthur (Rob Riggle) and their three children. Middle child Peter (Oakes Fegley) has just entered the sixth grade, migrating to a new school with upper classmen. Immediately bullied, he is further dismayed when he learns he will have to move into the attic since Grandpa Ed will be taking over his room. Resistant to this change, Peter declares war on his grandpa, determined to get his room back.


Family fare purely for the sake of entertainment can be a slippery slope. Entertainment not purely fanciful can (and should) at least be utilized as a learning tool for children, like a spoonful of sugar helping the medicine go down. But The War with Grandpa doesn't have anything to offer beyond silly escapism, even though it's based on the book by Robert Kimmel Smith. Basically, it's a purely adolescent exercise about an extended temper tantrum between young Peter and grandpa De Niro, who eventually succumbs to the provocation of his grandson. Oblivious parents played by Uma Thurman and Rob Riggle are unfortunately the most egregiously unlikeable characters since the plot insists on turning them into simpering busybodies who must be kept completely in the dark for any of this to work.
De Niro's played many a bristling patriarch, from the Meet the Parents franchise to Zac Efron's foul mouthed relative in Dirty Grandpa (2016), but Hill presents him in most neutered form to date. The film picks up the pace when focused on the throwaway scenes shared by Ed and his buds, which reunites De Niro with his The Deer Hunter (1978) co-star Christopher Walken, plus Cheech Marin. And then there's the effervescent Jane Seymour, here wasted as a kindly but characterless Fry's Electronics employee eventually wooed by Ed.
As Peter, Oakes Fegley (who has already worked with a number of notable directors, including Todd Haynes and David Lowery) has a sweet demeanor despite his aggravating tendencies, but the universe painted by Hill is rife with the usual cliches of hulking lunchroom bullies and cartoonish sidekicks.
Again, The War with Grandpa is intended as "family entertainment," and its fecklessness is likely impervious to any real critique other than regaling its wastefulness. Considering the talent in front of the camera, one wonders why the quality of the narrative couldn't have at least been punched up a bit to at least score a few chuckles, which doesn't necessitate innuendo, either.
★★/☆☆☆☆☆