Painter Man: Mitta's Return to Filmmaking a Lofty, Honeycombed History Lesson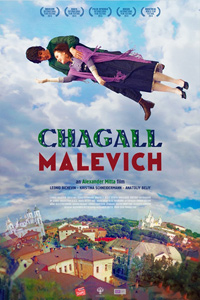 Ungainly and distractingly saccharine, Russian auteur Aleksandr Mitta returns with Chagall-Malevich, a whimsical biopic of politically opposed painters Marc Chagall and Kazimir Malevich. Considering the filmmaker is now in his eighties, there's potential to be impressed with this technically proficient undertaking. However, as evidenced by a recent trend in sanctioned Russian cinema, this feels like the kind of watered down inconsequentiality resulting from interference of the Ministry of Culture. Perhaps more meaningful as a patriotic reenactment for those within its native climes, the film feels like a bright eyed and bushy tailed bit of propaganda, its political rhetoric washed down with an easy elixir of colorful hues.
Narrating his own birth near Vitebsk, Belarus, amidst a chaotic, fiery backdrop we come to understand as taking place during a pogrom, Marc Chagall (Leonid Bichevin) spends the next three decades in Paris developing his artistic style. In 1914, he moves back to his hometown and marries childhood sweetheart Bella (Kristina Schneidermann). Her family is a bit nonplussed, as is her other suitor, Naum (Semyon Shkalikov). But the onset of WWI traps them in their hometown, and so, Chagall creates the Academy of Modern Art, an effort to 'bring Paris to Vitebsk.' His school is initially successful, and he attracts a wide variety of students, including some females developing overbearing obsessions with him. Bella uses her influence over Naum, now the regional leader of the socialist state, to assist in keeping the school running smoothly, especially since increasing displeasure with Chagall's focus on the individual breeds discontent amongst traditional communist teachings. When another teacher, Kazimir Malevich (Anatoly Bely) joins the staff, many of the students prefer his championing of the preferred 'Supremacist' style. Unrest grows as the war rages on, and soon the student body and the Academy itself is in jeopardy.
Much like Russia's first 3D film, Stalingrad (which was also the country's submission for the Foreign Language Oscar in 2014), this historical reenactment feels compromised by a desire to please the state, with characters engaged in enthusiastic pantomimes of emotional grandeur. There's not a moment with any genuine feeling, not even in the impassioned, dueling rhetoric displayed by the painters, injected with a little energy by the presence of Malevich, declaring "duplicating is thievery," to his students.
There's triteness to the film signaling a one-celled version of something by Michel Gondry, divorcing itself into random flights of fancy, perhaps born out of the necessity to quell the darkness of its unavoidable finale. Sergey Machilskiy's cinematography is often distracting, including a color palette that can only be described as overblown, with the center of the frame nearly always lit with what seems a direct beam from the sun, while the sidelines are always blocked out in metallic, deep blues. Perhaps this was a move to make the film feel 'painterly,' but this often has the opposite effect.
For a recent comparison of the portrait of an artist, Gilles Bourdos' 2012 depiction Renoir (set in about the same period on the French Riviera) does a much better job of this. As Chagall, Leonid Bichevin (star of Balabanov's Cargo 200, 2007) gives a vague performance as a controversial artist, weighted down by a toothless screenplay. As his rival, Bely manages to feel more dynamic purely by representing an antagonistic presence.
★★/☆☆☆☆☆