The Vicar Man: Smith Returns to Period with Bustling Slow Burn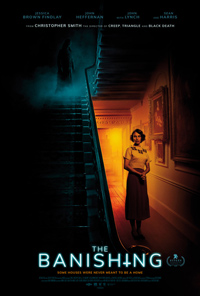 If you're familiar with the filmography of British filmmaker Christopher Smith, you know you're in for some unexpected twists and turns in genre fare usually hemmed in by formula. Like his 2010 film Black Death, Smith returns to a specific time and place with his seventh feature, The Banishing, a haunted house exercise set in 1938 England, while the country was on the brink of entering WWII.
Some astute character development builds a foundation for a fantastic lead performance from Jessica Brown Findlay, supported by a handful of interesting, sometimes transfixing supporting characters. It's easy to forgive the familiarity of Smith's through line given how much additional narrative tactics and exploits are thrown in, but rest assured, it's a slow burn to an oddly satisfying crescendo for those tired of genre formats resting comfortably and trampled story laurels.
In 1930s England, an insidious cult's actions regarding the death of a pregnant woman and her child leads a palatial manor to become haunted. After a vicious murder-suicide, the Bishop Malachi (John Lynch) allows the estate to languish, tended by the deaf maid Betsy (Jean St. Clair). After three years, the perfect candidate is located, and Malachi moves bumbling vicar Linus (John Heffernan) into the house, where he will preside over the small congregation. Shortly after, Linus' beautiful wife Marianne (Jessica Brown Findlay), and her preadolescent daughter Addie (Anya McKenna-Bruce) join him. It's clear their relationship is strained, owing in part to the origins of their union (Marianne bore Addie out of wedlock and through Linus' assistance, left a mental institution surrounding peculiar circumstances of her birth). Strange visions plague whoever resides in the home, and a presence seems preternaturally fixated on Addie. When a flame-haired seer (Sean Harris) visits both Linus and Marianne, the couple becomes privy to the terrible truth regarding previous inhabitants.

With the torture porn prone mysticism of a religious sect in the background (a la Pascal Laugier's 2008 cult classic Martyrs), The Banishing takes on the form of a classic studio women's picture, hellbent on gaslighting the hell out of its heroine. Twinges of Rosemary's Baby notwithstanding, Smith's vibe feels like kissing cousins to a variety of recent films as well, like Robert Eggers' The Witch (2015) or Neil Marshall's recent The Reckoning (2020).
Findlay, who has appeared in high profile television series, such as the reboot of Huxley's "Brave New World" and "Harlots," is a find as the anti-Fascist Marianne, reminiscent of many similar assertive contemporaries, like Lena Headey, Ruth Wilson, or the Kirke sisters. The script from David Beton, Ray Bogdanovich and Dean Lines may ape everything from the insidiously selective cult of The Wicker Man to Through the Looking-Glass, to any number of garden variety films about female ghosts seeking solace or vengeance (arriving on the heels of several titles bearing this plot point, from the ambient The Power to the schlocky The Unholy), but it gives Marion some delicious lines of dialogue as a feisty fallen woman, indebted to her husband a la Cora from James M. Cain's The Postman Always Rings Twice.
Marion is joined by the sinister John Lynch (a "Harlots" co-star who previously appeared in Smith's Black Death), a fantastically frustrating John Heffernan as her emasculated husband, and even an eerie maid in Jean St. Clair's Betsy. But the other terrific accent is Sean Harris, a flame-haired occultist (whose red tufts recall Marius Goring in The Red Shoes, 1948). Usually an outright villain, Harris is arresting as the persuasive Harry Reed.
Smith came to renown in the mid-2000s thanks to early work like Creep (2004), Severance (2006) and Triangle (2009), amid a surge of Brit genre talents that included Paul Andrew Williams (The Cottage; London to Brighton) and Tom Shankland (The Children). Always unexpected, even when the payoff falls short (2019's Detour – read review), The Banishing is another testament of Smith's craftsmanship, and leaves one wondering about the dark fate in store for those who survived a minor victory.
★★★½/☆☆☆☆☆