Reviews
Chronic | 2015 Cannes Film Festival Review
Prognosis Negative: Franco's English Language Dance with Death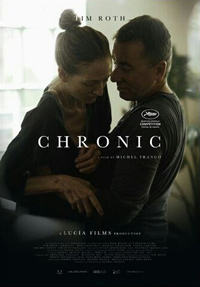 After winning the Un Certain Regard Award for his 2012 sophomore feature After Lucia, Mexican director Michel Franco is back with more uncomfortable human interactions, but this time in English with Chronic. Compared to previous efforts, including the 2009 debut Daniel y Ana which deals with a singular episode, Franco spreads his disdain over the shattered lives of those grappling with advanced stages of chronic illnesses. Connected by a hospice care nurse as our main protagonist, a disturbed man with his own deep secrets, Franco downplays the usual streak of revulsion we've become accustomed to for more familiar profundities.
David (Tim Roth) is currently caring for a frail patient who looks as if she's wasting away before our eyes. We see him working with her, efficient, patient, and caring. Several scenes later, we're at her funeral, which David attends, though he avoids contact with her relatives. Later, at a bar, he confides in a stranger that his wife of two decades died, adopting the patient's demise as his own narrative. Then, he's assigned a stroke victim, John (Michael Cristofer) an angry man who enjoys barking at his doting female relatives. John immediately bonds with the steadfast David, and eventually this leads to more blurred boundaries. It appears David gets quite emotionally invested in his clients, and when he's not posing as some peripheral character in a fictional universe he's created based on their lives, he's either running on treadmills or glossing over the Facebook profile of a young woman who happens to be involved with the very tragedy seeming to have brought David into his isolated existence.
Franco seems to take perverse delight in examining discomfort brought about when human interactions float outside of socially sanctioned appropriateness. We watch the transgression into these grey areas as they happen almost imperceptibly. David goes about his duties and the interactions he has with his clients seem to arise from his authentic need to genuinely be invested. The discomfort does not come from watching David, but when outsiders weigh in on his actions. The sterility of professional expectations makes it impossible for authenticity, at least the kind he seems to need, and these are the only real interactions David has. We do learn the circumstances of his past in muted details.
Much of Chronic consists of one-on-one interactions with David, played with great understatement by Tim Roth. Patients played by Cristofer and character actress Robin Bartlett are performed with great finesse, and it's almost impossible to guess where Franco is going with all of this, which makes the slowly coiling tension build without ever breaking. Where it ends up may tend to irritate, but it's meant to take your breath away, and sharply. DoP Yves Cape captures (Holy Motors and a regular with Bruno Dumont) muted, claustrophobic interiors in these sterilized lives, breathing for only moments at a time in stretches of nondescript, sunny-side exteriors.
Franco's bleak predilection for misanthropy shows no signs of waning. Roth's David is a victim of circumstance, paid to usher the dying as they get ready for the inevitable. Both the audience and the patients project thoughts, assumptions, and explanation to his actions, as he's used, abused, and thrown away in the typical Franco universe of exploitative humans. Those averse to the glass-half-empty worldview will surely find this unpleasant.
Reviewed on May 22 at the 2015 Cannes Film Festival – Main Competition. 93 Mins
★★★/☆☆☆☆☆