Happiest Season [Video Review]
Harper's Bizarre: DuVall Reinvents the Queerness of Holiday Traditions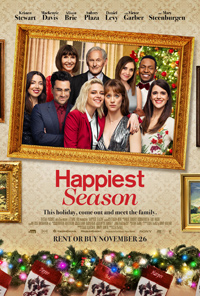 Across a wide variety of genres and narratives, going home for the holidays, and the intended cheerfulness of these and traditions in general, are ripe for their effective universality and entertainment value. At a certain point in Hollywood, these traditions also served as formidable juxtapositions of the facades we cling to vs. the dire reality of those who, for various reasons, were denied access to the heteronormative bliss of celebratory staples.
In the 1940s, there were film noirs like the Deanna Durbin drama Christmas Holiday (1942) and the (eventually) celebrated It's a Wonderful Life (1946) from Frank Capra, here serving as a diegetic reference. But as the annals of mainstream cinema narrowed, the holiday film has remained almost trenchantly white and insistently heteronormative, including outsiders only as those 'black sheep' who provide impetus for subplots (usually negative). For her sophomore directorial effort, Clea DuVall (The Intervention, 2016) attempts to reclaim this space from a queer perspective in Happiest Season, told through the lens of a lesbian who is forced back into the closet for the sake of her girlfriend's family's assumed feelings.
Being among the first mainstream packaged examples of its kind, DuVall perhaps eschews subtextual trauma to instead highlight resiliency and positivity. And while its fluffy aesthetics may frustrate some, DuVall does manage to deliver something enjoyable and heartfelt in this rendering of what it feels like for those LGBTQI family members coerced into the minefield of collective familial gatherings in settings from which they've either been historically rejected or erased.
Abby (Kristen Stewart), whose parents both died years ago, has allowed herself to shy away from the magic of Christmas. Pursuing a degree at Carnegie Mellon, she's happily residing with her long-term girlfriend and aspiring lawyer Harper (Mackenzie Davis). A romantic moment inspires Harper to invite Abby home to her wealth family's estate for the first time this holiday season. Dispatching her best friend John (Dan Levy) to look after the pets in her absence, the initially reluctant Abby decides this will yield the opportunity for her to ask permission to marry Harper from her father Ted (Victor Garber) and propose marriage on Christmas Day. On the drive to her parents, not only does Harper admit her family does not know about their relationship, but she also lied about coming out in the first place. To maintain holiday cheer and not ruffle Ted's ongoing campaign for mayor, Harper makes Abby promise to pose as her heterosexual roommate. Agreeing despite the awkwardness, Abby is flung into a hodgepodge of dysfunction, from Harper's preening mother Tipper (Mary Steenburgen) to a competitive older sister Sloane (Alison Brie), mother of twins whose marriage to Eric (Burl Moseley) derailed her own career in law. Confronted with several romantic partners from Harper's past, Abby commiserates with Riley (Aubrey Plaza), and eventually the opportunity for a reckoning presents itself.

Yes, Happiest Season is not exactly the first queer infused holiday film, following meaningful and important characterizations in films like Jodie Foster's Thanksgiving set Home for the Holidays (1995) or Thomas Bezucha's The Family Stone (2005). But DuVall and co-writer Mary Holland deliver Happiest Season wholly onto the experiences of Stewart's Abby, a young woman who is often too accommodating, too understanding, and maybe even too cowed into submission. However, Stewart approaches the characterization with a subdued grace which often shines in all the right places the narrative doesn't.
Holland, who also stars as the weirdo nerdy sister Jane, has given herself a plumb peripheral role, stealing most of the unexpected laughs (and sweetness), while Alison Brie is stuck in a thankless role as a bitter shrew, who, along with the matriarch played by Mary Steenburgen, is written as a mess of clashing stereotypes suddenly erased in the service of a convenient resolution. One wonders what a stronger slapstick component and some darker, realistic ponderings may have yielded, which is especially evident in the underutilization of Aubrey Plaza's Riley (although seeing Stewart and Plaza side by side in a number of sequences, including in a gay bar featuring drag queens Jinkx Monsoon and Ben De La Crème, does nudge toward the sublime). Unfortunately, the lack of some character attenuation robs Mackenzie Davis of any humanity as Harper—as Abby informs her during a strenuous coming out sequence, it's arguably too little too late, and falls short of even the goofy but impassioned energy of something like a throwaway moment from Parker Posey's moment in Home for Purim, the film within in a film in Christopher Guest's For Your Consideration (2006).
Lensed by John Guleserian (who shot Stewart previously in 2015's Equals, whose forthcoming work included the highly anticipated Candyman remake), Happiest Season has a picture perfect quaintness too it, somehow convincing us of this being a larger than life palette populated with elitists struggling to maintain a foothold via what eventually reveals itself as somewhat of a demure mayoral candidacy race (which meanders amiable enough courtesy of the always welcome Victor Garber blinded by a toxic benefactor, Ana Gasteyer).
And for a Christmas themed movie, it's strangely absent of enjoyable holiday music, either playing with a catalogue of faithful classics or introducing anything peppy or poignant or memorable enough to define itself. But it does give us a lovely Kristen Stewart and another round of Dan Levy's particular but funny shtick as her bestie, who gets the best takeaway in his defense of Harper's difficulty in coming to terms with her sexuality and self-loathing. If only the final frames of a loving glance basking in the gray-blue glow of Frank Capra credits would have felt more profound instead of forced.
★★½/☆☆☆☆☆