Time Crimes: Byrkit's Exercise Somewhat Overbaked by Inchoate Ideas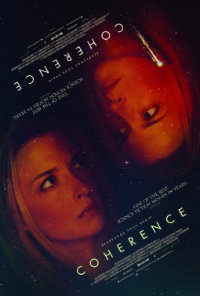 Fans of Shane Carruth's blend of intelligent and hyper complicated low-fi sci-fi should certainly be interested in James Ward Byrkit's debut, Coherence, a concept that is, of course, facetious at best in this mind-bending puzzle. Playing like the relationship issue version of Nacho Vigalondo's Timecrimes, the initial set-up reaches dizzying heights of possibility and discussion worthy instances. Inevitably, however, the narrative is constricted by its own structure of multiplied repetitions, which are necessary for intricate developments even as they tend to become an impediment to continued investment.
During the evening when a comet speeds notably close to Earth, several old friends converge at a dinner party. Seven of them are friends, while one of them, Amir (Alex Manugian) is bringing a new girlfriend, Laurie (Lauren Maher), who used to date Kevin (Maury Sterling). Kevin is now in a committed relationship with Em (Emily Baldoni), a dancer harpooned on the cusp of great renown. Other members of the group include Beth (Elizabeth Gracen), who brings a homebrewed hallucinogen containing just a smidge of ketamine, and a notable television actor, Mike (Nicholas Brendon), who starred in a popular series, "Roswell." Light cattiness aside, conversation eventually turns to the visitation of Miller's comet, which apparently causes cell phone screens to crack ominously. Foreboding details about past comets courtesy of knowledgeable Em ensue, and, suddenly, all the lights go out. But the party notices that one house on the street is all lit up. Several of them decide to explore, against their better judgment.
The intelligent, multiple references aside, with Schrodinger's cat and a healthy dose of quantum physics hypotheses thrown into the mix, the Twilight Zone tinge should key you off to where this is all going to end up eventually. And it's a quite satisfactory finale, though even clocking in at under 90 minutes, Coherence can't avoid a period of tedium midway through its ordeal.
Of the eight cast members, several standouts include snow-haired Elizabeth Gracen and Nicholas Brendon (of "Buffy the Vampire Slayer" and Big Gay Love fame). Eventually, Emily Baldoni begins to eclipse the other cast members with underwhelming effect due to a performance that sometimes seems a bit undercooked. Likewise, several exchanges of dialogue feel a bit strained as the film goes on, surprisingly since the opening dinnertime sequences feel lively and unrehearsed.
More intriguing is how Byrkit wrestles with decoherence (which perhaps would be a better title), introduced via Schrodinger's cat. In quantum mechanics, decoherence, as it is used here, is a theory concerning loss of order in such a way that two divergent realities coexist in direct awareness of the other, sharing and transferring information between both realities. Of course, we're supposed to believe this is due to the cosmic effect of the comet flying closely overhead, an event precipitated by Em's pipe laying relay of her historical comet knowledge. How Coherence manages to play with this concept is compelling, even though it collapses the tension quite emphatically.
While this eventually seems less 'high concept' than the comparable reaches of Shane Carruth, for patient audience members that enjoy an intelligent puzzle, Coherence is certainly worth a look.
★★½/☆☆☆☆☆