Reviews
Cold Comes the Night | Review
Into That Cold Night: Chun's Sophomore Feature a Likeable Effort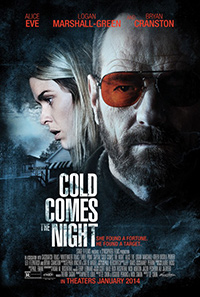 You're going to have to look past the unfortunate poster art for Cold Comes the Night, the sophomore feature from indie filmmaker Tze Chun, which seems to position the film as an unabashed cheapie lurking behind a graceful and elegant title. But once you do, you'll be in for a satisfying surprise as Chun's film plays like an echo of classic film noirs of the studio (or even a handful of 1990s neo-noirs), those poetically titled gems that feature hardworking or fast talking dames trying to get ahead any way they can in the cruel ways of a male dominated world. True, there's a certain B grade element to its pulpy and sometimes violent certainties and convenient twists, but anchored staunchly by a couple furiously committed performances, it's one of the most engaging examples of its ilk to come along in quite some time.
Somewhere in the middle of a cold nowhere, Chloe (Alice Eve) runs a seedy motel where drug dealers and prostitutes often do their business. Unfortunately, this means social services (an antagonizing Ashlie Atkinson) thinks this is hardly the environment appropriate for Chloe to raise her young daughter in, and she's given two weeks to vacate or risk losing custody of her kid. And, the universe acts accordingly when immediately after that, a Russian gangster named Topo (Bryan Cranston) and his partner take lodging in Chloe's motel. But when his partner has an altercation with a hooker that ends in murder, their vehicle is impounded by the police. And the important package Topo needs to deliver is in the vehicle. And so Topo decides to use Chloe, against her will, to help retrieve the package.
Say what you will about Cranston's Russian mugging, but he's quite entertaining as a criminal with some sort of macular generation, whose murky past we're only clued in on enough to know that his current job is really more of a favor from an old friend than it is an ongoing gig. But the film's success mainly falls squarely on the shoulders of Alice Eve, whose Chloe is something like the modern day, welfare saddled version of Mildred Pierce, though without any silver lining or indefatigable moral compass. While she's been knocked around in plenty of tepid studio fare (Sex and the City 2; The Raven; Men In Black 3) and some intriguing indie features that seem like interesting yet ultimately ill-conceived ideas (Crossing Over; ATM), her performance here, along with an amazing turn in Neil Labute's Some Velvet Morning, should have people finally paying attention to her talents as a performer rather than her controversy courting décolletage in Star Trek. She's playing a frayed mother in a run-down hotel, hovering at the end of her rope. Her conflicts, and subsequent actions all easily understandable as she's faced with a predicament we've seen countless machinations of before, high stakes and all.
Yet there's a level of engagement here that's often absent from these modernized rehashes of depicting somewhat good people stuck in a world gone sour; we actually care about what happens to poor Chloe, dismayed at her strange and possible abusive past relationship with the local cop, played by (for once, an appropriately cast) Logan Marshall-Green, and startled by the small smatterings of violence Chun injects in the latter half of the film. In the fine tradition of those grungy noirs wrapped in lacy titles like Night Without Sleep or Murder, My Sweet or Kiss Me Deadly, Tze Chun's Cold Comes the Night is a generous throw back to those cinematic days when even familiar tales could be told with enough verve to initiate excitement and delight.
★★★/☆☆☆☆☆