Legal Ease: Tamhane's Frustrating, Numbing Portrait of India's Legal System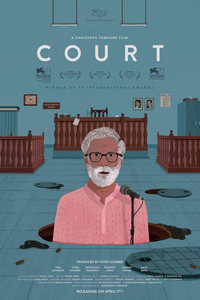 Director Chaitanya Tamhane won Best Film in the Horizons program at the 2014 Venice Film Festival for his debut feature, Court, a near two hour procedural documenting the hellish process of India's legal justice system. An impressive achievement for a first feature on a technical and narrative level, the film is exhausting as it is fascinating, figuring as a prominent and compelling indictment on archaic procedures dictated by the laws of a draconian age. Compelling performances from both professional and non-professional cast members help paint an indelibly human face on the type of predicament generally referred to as Kafkaesque.
Narayan Kamble (Vira Sathidar) is a 65 year old folk singer arrested for performing a song in public calling for sewer workers to kill themselves. After the body of one such worker is discovered, he is charged with abetting suicide. Vinay Vora (Vivek Gomber) is an attorney who seeks out clients charged with such dubious crimes, and proceeds to defend Kamble throughout this long winded ordeal. With a judge (Pradeep Joshi) and insensitive prosecuting attorney (Geetanjali Kulkarni) doing everything they can to deny Kamble release from confinement, the old man's health deteriorates significantly.
In many ways, Court resembles the frustrating outcry of another judiciary feature from 2014, Gett: The Trial of Viviane Amsalem, which also outlines a numbing process in the Israeli court system featuring a woman's futile efforts to secure a divorce. Tamhane doesn't relegate us strictly to the courtroom, and the film's most succinct moments seem to happen there. With each revolution of Narayan Kamble's case coming up on the docket, it's whisked away to another future date either due to technicality, lack of evidence, or difficulty in securing a witness, etc.
The film's most interesting elements revolve around the three major players in Kamble's case, his attorney, the prosecutor and the apathetic judge. Tamhane prizes incredibly long shots, often focusing on the narrative detritus with painstaking detail before we're steered into the point of a sequence, something which extends the film's running time a bit unnecessarily.
We learn scant details about the accused's life, filled in with cold, clinical detail, mostly thanks to the public prosecutor's' ceaseless harping on his past, keen on painting a troubled portrait of a man she clearly has no regard for. Her coldness is then directly juxtaposed with the warmth in which she interacts with others outside of work, including her family and sharing nutritional information with a woman on the bus. Conversely, Kamble's heroic attorney Vora is quite unfriendly to his personal relations, bickering with his nit-picking parents. We get the sense he defends clients like Kamble as a way to pay for his level of privilege considering his family's economic wealth.
The callous, contemptible judge has no qualms about exerting his power, long since numb to the endless parade of offenders in his courtroom. Both Sathidar and Kulkarni are exemplary as the lawyers, bickering endlessly over these laws written over a century prior for a culture markedly transformed since their inception.
DoP Mrinal Desai has worked on several features, and served as second unit for Boyle's Slumdog Millionaire, here getting to show his own considerable skills with first time director Tamhane, capturing cramped, cluttered quarters in a bustling, indifferent world. Several other crew members, impressively, make their debuts, altogether concocting something as nihilistic and clinical as we'd expect to see from the likes of Haneke.
★★★½/☆☆☆☆☆