What's in a Name?: Coogler's Impressive Rocky Spinoff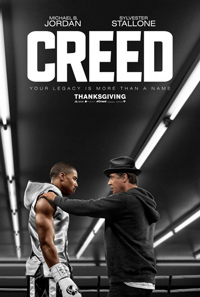 After taking home the top prize at the Sundance Film Festival in 2013 with Fruitvale Station, director Ryan Coogler moved into studio franchise filmmaking with Creed for his sophomore effort. It's a questionable move, seeing as the film is a spinoff from Sylvester Stallone's iconic Rocky series, a legacy spawning six films, the last unfurling in 2006. Co-writing the screenplay with first time screenwriter Aaron Covington, Coogler's perspective concerns the abandoned offspring of Rocky Balboa's frenemy Apollo Creed (played by Carl Weathers) and his rise to fame. Considering its breakneck speed through arguably slim running time and retread of the general motions we've seen in nearly every boxing odyssey committed to celluloid, Coogler manages a compelling character study hinging on dynamic emotional motifs concerning the nature of legacy and the definition of family. Though not as potent or important as his earlier breakout success, it proves the young director's innate ability for concocting emotionally expressive templates in even the most dubious realms.
Adonis Johnson (Michael B. Jordan) grows up without ever knowing his heavyweight champion father Apollo Creed, a man who died before he was born. The child of an illicit affair, Johnson is orphaned, and shows early behavioral troubles until he is adopted by Mary Anne Creed (Phylicia Rashad), the widow of his father. Raised in Los Angeles, Johnson wishes to follow in his father's footsteps despite his mother's wishes and heads to Philadelphia, where the mythic Apollo Creed fought Rocky Balboa (Sylvester Stallone) in a legendary face-off. Tracking down Rocky, the aged ex-boxer initially declines the youngster's pleas to train him, but eventually relents when he sees Johnson's talents. Attempting to keep his heritage a secret, Rocky begins to train the anxious upstart, but interested parties want to know where Johnson comes from. Meanwhile, Johnson begins to woo his beautiful downstairs neighbor, Bianca (Tessa Thompson), a talented chanteuse.
Music factors into the romantic fragments of Creed's subplot in interesting ways, and if Ludwig Goransson's score feels as comfortable as the narrative formula, a steady, throbbing hum apparent each time Creed and Bianca interact succeeds in creating a fitting tone. All these interactions are arguably predictable, but the mood and surprising emotional depths are always believable. Although the resplendent Phylicia Rashad is unfortunately relegated to the periphery, Coogler allows for generous chemistry between Jordan and Tessa Thompson (who co-starred quite memorably with Rashad in For Colored Girls, 2010) as Bianca, the sort of musically inclined, sultry character played infamously by Lisa Bonet (think Angel Heart, 1987). Coogler and Covington manage moments of tangential divisiveness—when Bianca is censured by the star act at her club for acting like a 'light skinned girl' we're prone to believe the ensuing brawl is as equally for her honor as it is for Creed's defense of his name.
Coogler works wonders with Stallone in his supporting duties. Though he never enters the ring and is sandwiched into a melodramatic plot device for additional manipulative heft, the actor nimbly sidetracks our expectations with his sympathetic, even moving turn. This is a far cry from the bulldozing, hyperbolized machismo we've seen Stallone cling to in his Expendables franchise, or even the other recent Warner Bros. property, Grudge Match (2013). And even if Coogler positions the film's heart on its sleeve, the message is universal—family isn't defined by blood ties, but by the connections we allow between one another. Creed is allowed to designate the roles of his absentee parents, and wisely, this begins with Mary Anne Creed's adoption of a child not her own, which enforces a decent infrastructure for Jordan's grappling with abandonment issues as the narrative ensues.
The continued alliance of Coogler and Jordan proves to be a delectably promising one, and if there are initial doubts about the lead star's angsty familiarities early on, he manages the difficult feat of winning us over by the time the credits roll. Of course, tired audiences may tune out at certain moments along the way, as we are treated to the generalities of the workout montage and, inevitably, the final countdown. And even if boxing, in its very nature, is a barbaric, gladiatorial pastime, and cinematic depictions continue to struggle with new ways to broaden its possibilities (this year's Southpaw is a great example of familiarity's hindrance), Creed is a rarity in that it matches its own paranoia on notions of legacy and manages to be a mighty successor to an iconic cinematic heirloom.
★★★½/☆☆☆☆☆