Reviews
Criminal Activities | Review
Subliminal Criminal: Haley's Debut Feloniously Familiar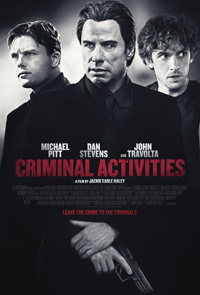 There's a certain amount of smarmy appeal to justify Jackie Earle Haley's attraction to taking on Criminal Activities, the actor's first stint as director. Updating a script written by Robert Lowell (a man who has been deceased since 1977), Haley updates the action to modern day Cleveland, but this mob affiliated kidnap caper feels exactly like direct-to-video fodder from the mid to late 90's modeling snappy, impressionistic dialogue around loopy bits of violence and pronounced plot twists, a common template following the success of Tarantino's Pulp Fiction (1994). An intriguing ensemble cast heightens a certain interest in the film's rudimentary wiles, but exaggerated characterizations distract from an inevitable plot twist only unexpected because it's not particularly notable.
Four friends from college are reunited years later following the death of a friend. Noah (Dan Stevens) convinces his buddies Zach (Michael Pitt), Warren (Christopher Abbott), and Bryce (Rob Brown) into an investment venture. None of them have seemingly accomplished what they'd set out to do, so they comply. But when the investment turns sour, the four men find themselves at the mercy of a vicious mobster, Eddie (John Travolta), Noah's criminal uncle. Eddie insists the men assist in kidnapping the son of another criminal entity, Marquis (Edi Gathegi), or else face violent retribution. Reluctantly, they go through with the kidnapping, but few surprises are in store for them.
Like Suicide Kings (1997), 2 Days in the Valley (1996), or Things To Do in Denver When You're Dead (1995), films with large ensembles of notable names engaged in retro narrative re-hashes, Haley's film proposes a similar treatment of chalked up motifs via vibrant characterizations. Like those films, Haley grapples with familiar tropes related to kidnapping and organized crime, although nothing happens to feel very menacing in Criminal Activities, beginning with its rather vague catch-all of a title.
Casting himself as a heavy in his own film, Haley gets several of the film's more flowery, belabored passages, though he fares better with these than Edi Gathegi (better known as the dreadlocked vampire in the first Twilight film) as the kidnapped son of a black criminal lynchpin (presented so unenthusiastically it makes the crime syndicate run by Harry Belafonte in Altman's Kansas City seem more like Scorsese).
Speaking of vampires, John Travolta, donning an unspeakably distressing jet-black wig shellacked dubiously atop his forehead, appears to be in a mirthful kind of Sharon Stone mode, switching at will between bemused charlatan to vulgar thug but not quite effective in either regard. An odious correspondance on none other than Macbeth and his unfortunate demise at the hands of a man 'not of woman born' is one of several colorful diatribes the film unwisely regurgitates for us, but these kinds of stylized choices take a particular energy to pull off, and Criminal Activities doesn't have it. Haley amasses more interest in his quartet of young men, though Rob Brown, Michael Pitt, and Christopher Abbott (an actor whose talents are a bit underserved here, especially if you manage to see him in this year's James White, which reached limited theatrical release only a week prior) all play certain 'types' of people, while Dan Stevens gets to do something a little more colorful (though quite silly and ultimately, convoluted).
Revenge is a dish best served cold, but blazing red hot works just as well. Criminal Activities manages to be a passing amusement, but never registers as more or less than tepid.
★½/☆☆☆☆☆