Birds of Passage | Review
Wayuu of the Gun: Greed's No Good in Guerra & Gallego's Ganja Saga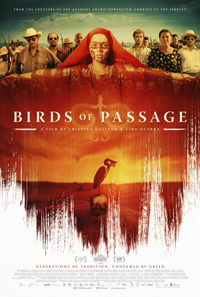 Crime doesn't pay, at least not for the indigenous Wayuu people in Birds of Passage, a community torn asunder by involvement in Colombia's cannabis boom from the late 1960s to the early 1980s. Demarcated by five cantos charting the rise and fall of Rapayet and his marriage into an ill-fated tribe, director Ciro Guerra shares the director seat with his usual editor/producer Cristina Gallego for a generation spanning saga of greed and betrayal. An ambitious endeavor from Guerra, who broke into international acclaim with his third feature, 2015's Embrace of the Serpent (which took home an award out of the Directors' Fortnight and went on to become the first Colombian film to snag an Academy Award nomination), the technical achievements prove this to be his most accomplished and multi-dimensional feat to date. An effortlessly watchable addition to 1970s era cartel cinema, Guerra and Gallegos manage a compelling saga, albeit in a period and formula a bit less mysterious and enigmatic than his previous celebrated effort.
The origins of the Colombian drug trade are born from perverse romantic iterations, as conveyed by the poor, hapless suitor Rapayet (Jose Acosta), who desires to marry the beautiful Zaida (Natalia Reyes) despite her family's superior standing in their community. Unable to meet the demands of her mother Ursula's (Carmina Martinez) steep dowry, Rapayet stumbles upon the idea to sell weed to a group of anti-Communist Americans currently touring Colombia. Immediately discovering the high profitability of this venture, Rapayet not only wins Zaida's hand in marriage and the respect of her family, but quickly builds a profitable drug empire. Eventually, however, Rapayet's venture becomes unmanageable thanks in part to the actions of his friend and partner Moises (John Narvaez).
As far as origin stories go, Birds of Passage goes down an unassuming route, focusing on how archaic traditions of the Wayuu became the catalyst for their involvement in the marijuana drug trade, at first as a means for Rapayet to seize the hand of Zaida. Of course, this quickly morphs from cottage industry for the Wayuu to a new way of life between two disparate clans, whose involvement with outsiders quickly perverts loyalty to their own culture. Utilizing a large cast of mainly non-professional actors, Guerra and Gallego provide a sharp matriarchal focus through the imperious Ursula (Carmina Martinez), whose steadfast grip on her family's future eventually ends up strangling it.
Martinez is the true focal point here, allowed a similarly sinister presence to the murderous Jackie Weaver matriarch in David Michod's Animal Kingdom (2010). As the male lead, Jose Acosta is a simmering presence as Rapayet, a man whose allegiance to his exceedingly violent friend Moises (Jhon Narvaez, scoring period kudos for his flamboyant 70s wardrobe) also troubles the water. Speckles of grisly outbursts pepper the last two divisions of the film, as a new, uncontrollable era is ushered forth in the Columbian drug trade, the Wayuu expiring underneath the wave of the Medellin (who make an ever-so-brief but violent appearance).
As its title promises, various birds, symbolic metaphorical vessels for the ghosts haunting Rapayet and his doomed clan, are utilized frequently. These provide bright swaths of shimmering ambience to what's otherwise a standard drug clan odyssey. Ursula and Zaida spend several instances consorting with spirits riding in on their dreams, interpreting their realities with the help of preternatural spirit guides of the ancestors. One of the film's most vibrant passages is the courting sequence of Zaida and Rapayet as they engage in traditional dance ritual wherein the female squares off in bird-like garb.
It's these asides which provide Birds of Passage with its real bits of potency, while the romance of Zaida and Rapayet is overshadowed by the struggle for dominance from the prying Ursula. As best laid plans are torn asunder, and Rapayet's spoiled brother-in-law wreaks havoc (a narrative move similar to a much more American but similar scenario in Doug Liman's American Made) with uncontrollable, sociopathic outbursts, Rapayet's hard-earned trade crumbles swiftly around him. Guerra and Gallego build to several moderated crescendos of violence which feel similar to the outrageous outbursts of a Spaghetti Western finale, with a consideration that perhaps blood isn't thicker than water, after all.
Reviewed on May 9th at the 2018 Cannes Film Festival – Opening Night Directors' Fortnight. 125 Mins.
★★★/☆☆☆☆☆