Reviews
Embrace of the Serpent | Review
Hearts of Darkness: Guerra's Exceptional Exploration of Ruinous Colonialization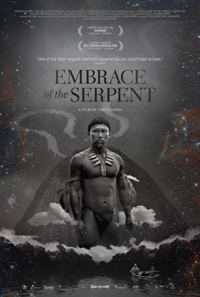 Colombian director Ciro Guerra charts an enigmatic narrative of parallel odysseys through the Amazon with his third feature, Embrace of the Serpent is no less intimate in its rendering of human interaction than previous films The Wandering Shadows (2004) and The Wind Journeys (2009), Guerra's stark allegory of the extinction of indigenous cultures at the hands of well-meaning but ignorant white Europeans is powerfully resonant in this gorgeously shot film, touted as the first feature to be shot in the Colombian jungle in over three decades.
In 1909, ailing German explorer Theodor Koch–Grunberg (Jan Bijvoet) scours the Colombian jungle for isolated shaman Karamakate (Nilbio Torres), a guide he believes will lead him to an exotic plant known as yakruna, and thus restore his health. Karamakate, the last surviving member of his tribe, is incredibly wary of white men, and seems only interested in assisting the scientist due to his claims of other remaining tribespeople he feels able to relocate. Concurrently, a similar narrative unfolds in 1940, with the aged Karamakate (Antonio Bolivar) now assisting an American scientist, Evans (Brionne Davis), looking for the same plant based on Grunberg's detailed descriptions. The landscape has changed markedly in the three decades time span, with Karamakate claiming he has no memory of the previous journey, agreeing to join Evans on the escapade, though now it's unsure who may be guiding who.
Recalling a handful of colonialist narratives, ranging everywhere from James Fenimore Cooper's The Last of the Mohicans to Joseph Conrad's Heart of Darkness, Guerra's film represents a striking narrative contrast to a similar aesthetically inclined examination of colonialism, Miguel Gomes' Tabu (2012), a film less interested in exploring the everlasting consequences of cultural eradication. Instead, Guerra's film acts more as a testimonial of two European accounts filtered through the perspective of one native shaman. The white scientists are German and American here, but witheringly, neither has invested interest in enhancing the natives' lives as they are, even with well-meaning intentions and foreign supplies that will eventually be used against them. The film's succinct observation of the jungle being raped for European needs is that "rubber is death."
Belgian actor Jan Bijvoet (star of Alex van Warmerdam's Borgman) portrays the ailing German scientist, whose writings forge a template for a next generation of intrepid scientists, like the American portrayed by Brionne Davis, arriving three decades later. The search for the magically restorative orchid known as yakruna is reminiscent of genre fodder from B-movie narratives, like 1950's The Leech Woman, where scientists scour the jungle for a native plant with miraculous powers. But Guerra's series of interactions between Karamakate, both as an older wizened man, and a younger wary one charts an intriguing trajectory for an often neglected perspective.
DoP David Gallego's ravishing black and white cinematography is beautiful and gripping all on its own, juxtaposing the natural, guarded beauty of the jungle with the stark edifices of European infiltration, such as the earlier narrative's depiction of a colonial priest brainwashing kidnapped male native children right before they're slaughtered by an approaching brood of Colombians, which unfolds like a sequence from a horror film.
As its poetic title indicates and its visual asides readily transmit, the white characters are the unwitting, devouring reptilian predators, returning to the jungle to devour its own tale/tail. Comparable to the art house jungle vision of Herzog's classic Aguirre, the Wrath of God (1972), Guerra's Cannes-winning, Directors' Fortnight selected Embrace of the Serpent is a lyrical elegy to civilizations lost under the stampede of colonization, where 'exotic' cultures were only as useful as far as their mystical traditions may inspire the imagination.
Reviewed on September 12th at the 2015 Toronto International Film Festival – Contemporary World Cinema Program. 122 Mins.
★★★★/☆☆☆☆☆