To Grandmother's House We Go: Green Succeeds with Obedient Resurrection of the Carpenter Classic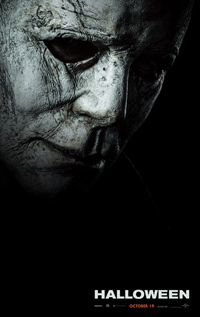 The original tagline for John Carpenter's 1978 horror classic Halloween, which birthed a whole slasher subgenre unto itself (and fashioned Jamie Lee Curtis into the original Scream Queen as it helped solidify the archetype of the 'final girl') read "The night He came home!" And not unlike another popular cult staple, Jesus Christ, the homecoming of this He in question has had plenty of reimagined advents.
With significant anticipation and trepidation, director David Gordon Green, along with co-writers Danny McBride and Jeff Fradley, have recuperated Michael Myers for the tenth time (not counting the non-related 1982 third installment Season of the Witch) just as Carpenter's original reaches its fortieth anniversary, brandishing Curtis in her first reappearance as Laurie Strode since 1998's Halloween: H20. The result is an honorable successor which brings us to contemporary Haddonfield, Illinois, and a showdown which does feel as if it picks up right where Carpenter and Curtis left off from the original (even eschewing their original serviceable 1981 sequel, which was where the mythos of Strode being Myer's sister was born).
Forty years after her fateful encounter with the serial killer Laurie Strode (Curtis) is visited by two British reporters (Jefferson Hall, Rhian Rees) who arrive in Haddonfield to revisit the case just as the dormant Michael Myers is about to be transported to another mental health facility. In the four decades since his last killing, Laurie has become an obsessed recluse, living alone in the woods, turning her house into a weaponized bunker to prepare for the possibility of Michael ever escaping. Her resolve has wrought great consequences, however, as her daughter Karen (Judy Greer) was removed from Laurie's care at the tender age of twelve. After years of being estranged from her child, recent efforts of granddaughter Allyson Strode (Andi Matichak) have allowed for some tentative reconciliations, but when Michael escapes during his transport, all hell breaks loose for the Strode clan on another fateful Halloween.
Green and company stay faithful in recreating the vibes of Carpenter's universe (who is also on hand with a re-created score), careful to spend only as much time as necessary contextualizing contemporaneity. Laurie Strode has been fashioned into a melancholy martyr of her own making (its major climax has echoes of Ridley Scott's original 1979 Alien, at least comparing to how Sigourney Weaver and crew navigated interior spaces as they tracked their extraterrestrial) and Curtis, despite an unfashionable fright wig, is in formidable crusade mode. In fact, the film is defined by a fierce intergenerational female focus, with Curtis, Greer, and newcomer Matichak forcibly outperforming the men (all of whom, this time around, make all the cliched bad decisions).
While Will Patton proves mostly handy as the historically involved character Sheriff Hawkins, both his actions and that of the Donald Pleasance stand-in Dr. Sartain (which sounds an awful lot like the Samhain of the franchise lore), played by Turkish actor Haluk Bilginer (a Nuri Bilge Ceylan luminary) are the script's only major weak points according to catalyzing behavior. But the rest of the film is littered with allusions to the 1978 original, enough to keep the audience invested without being overwhelmed in nostalgic reverence. Curtis and Greer prove to be a winning duo by the final act, and Matichak's resiliency fares better than Scout Taylor-Compton's in the 2007 Rob Zombie reboot.
Wisely abstaining from answering any questions about the mythos of Michael Myers, Green's Halloween is the best iteration of the franchise since Carpenter laid down the gauntlet in 1981.
Reviewed on September 8th at the 2018 Toronto International Film Festival – Midnight Madness Programme. 98 Mins.
★★★½/☆☆☆☆☆