Right Man at the Wrong Desk: Gustav Möller Cracks the Case with Debut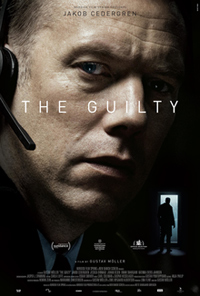 You wouldn't expect the tipping point of a thriller to be marked by the words "If I log in to a computer on a different room, will my calls reach me there, too?", but that's the limited playground that filmmaker Gustav Möller has picked for himself in this doozy. Entirely set in a control room where operators of the Emergency Service in Copenhagen offer help to the citizens in their district, The Guilty is a lean and effective chamber-piece spin on the police thriller, with a case of domestic violence unfolding before the eyes (well, ears) of officer Asger who – boiling with frustration – can't do much but coordinate first responders and investigate the crime from his computer.
The concept of a man in a confined space and a story happening only through dialogue is of course nothing new, but Möller is milking every last trope in the long and esteemed tradition of cinematic emergency calls, which ensures things remain interesting from start to end. True, the mere thrill of witnessing 'the other side' to those conversations would probably not be enough to carry the entire movie by itself – the same premise, incidentally, was used for a recent VR title on Oculus Rift called Dispatch – but the Danish setting makes for some good contrast with the more familiar American perspective on the subject.
Portrayed by Jakob Cedergren (a familiar and reassuring presence but not without a dark component) as a short-fuse, powder-keg of a man, Asger is very much a walking stereotype: dressed differently from his colleagues and animated by a twitchy demeanour, he's instantly recognizable as the man of action now benched due to an internal investigation over a shooting incident.
Rather than the actual case of Iben (Jessica Dinnage, who has to sell a crucial plot development with just her voice, and mostly succeeds), a woman who has apparently been abducted by her ex-husband and who calls Asger from the car pretending to speak with her two young children at home, The Guilty finds its real conflict in the struggle between the pristine devotion to protocol of the institution and the chaos unleashed by one particular officer.
Long before his disregard for boundaries could be justified by the life-and-death stakes of Iben's predicament, Asger had already dismissed calls by telling citizens that he couldn't help them because "it's your own fault, isn't it?". That's what makes the stiff and meticulous apparatus of the Danish police force even more of a compelling foil, with its strict cellphone-use policies and the perplexed colleagues always quick to raise an eyebrow to Asger's increasingly erratic behavior (in one of the more distinctively European touches, Asger decides to formally apologize for his behavior to the colleague sitting next to him – an awkwardly revelatory example of how nobody knows how to talk to or handle him).
It's to Möller's credit that the film follows that thread to its logical conclusion, rather than sweeping the consequences of Asger's actions under the rug. Suitably claustrophobic, the camerawork traps the main character in progressively smaller rooms, ironically isolating him from his environment in a way that he never quite manages to replicate with the call-tracing radius on his computer. The desk-screen-headset triangle is even more limiting than the car from Locke, which Steven Knight could at least inject with some visual fluidity thanks to the lights and highway around it. No such luck for Möller, who has to rely on the alienating effects of the dull office lighting and make clever use of some blinders to drive home this nightmarish spiral of good intentions, overconfidence and bad luck.
★★★/☆☆☆☆☆
Reviewed on August 1st at the 2018 New Horizons Intl. Film Fest. 85 mins.