Dream a Little Dream: Raboy Broods on Bruised Memories with Moody, Slender Narrative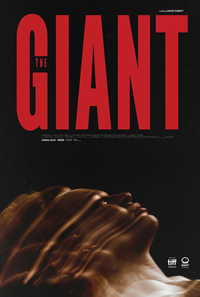 Crackling thunder, roiling clouds on a purple sky and electric tendrils of lightning illuminating sweaty, nubile skin set the mood for a painstaking memory poem (or a Bob Seger tune) in The Giant, the directorial debut of David Raboy, based on his own 2012 short of the same title. What begins as a dark odyssey of one young woman grappling with a traumatic past and how it relates to a concurrent killing spree slowly stagnates into an exercise which seems to be a bit more metaphorical. Refusing to define the parameters of its lead protagonist's reality, we're left with what's meant to be an universal period of transition from adolescence to adulthood marked by one last sweaty summer and one last inebriating party with which she can lay her demons to rest.

In the sweltering summer of rural Georgia, Charlotte (Odessa Young) is about to embark on her graduation night and implement her final passage from young woman to adulthood. A planned party with best friend Olivia (Madelyn Cline), also celebrating her birthday, is marred by several factors. Charlotte's mysterious ex-boyfriend Joe (Ben Schnetzer) suddenly reappears at the same time a young girl's body is found. And then, another girl is found dead shortly after. The revelers relocate the party and a storm brews in the night sky. Olivia's new party location and Joe's reappearance force her to confront traumatic memories, but is she only dreaming?
The Giant begins abruptly, a suicide marked by the dangling feet of Charlotte's mother. The actual location of this tragedy and the space it takes up in the young girl's mind are the first clue to repeated references about whether she's experiencing memories or living in a waking dream. When she posits this conundrum to others, including her troubled ex-boyfriend, the retort is always more or less the same—does it matter? Unfortunately, this is the same energy which bleeds into one's understanding of what's happening, asking its witnesses to go along for the ride and enjoy the dark twinges of its experience. Sometimes, this ends up allowing a sort of sublime topsy-turvy quality as we question Charlotte's perspective—her convenient conjuring of Joe, for instance, their shared narrative about a night where the sky was filled with booms signaling the same kind of terror promised by the literal storm.
But it's ultimately a tall order, given that Raboy doesn't give us much tangible evidence to insinuate what the potential meaning of Charlotte's troubles should portend. A 2008 indie called Dream Boy which featured Maximillian Roeg (son of Nicolas and Theresa Russell) was a queer romance set in the sweltering south of the 1970s and features this same dream/nightmare wake quality, ultimately confounding.
It's a testament to Raboy's mise en scene in distilling a rather timeless quality to The Giant—the song meant to define this summer for these youths, this memory in the making for these reveling teens (as formatted by Jack Kilmer's Will, an immature youth whose flirtation with Charlotte involves injury) plays but we never quite catch any discernible tune. Ultimately, we're left to weigh whether or not Odessa Young is a woman gone mad or merely, as she says, finally at the precipice of willing herself to make new memories, just now laying to rest the troubles with the old ones. Her policeman father's short conversations seem to confirm young girls are actually being murdered, the curfew is real, but as we volley between the twins of memory and sleep, The Giant really confirms nothing but a feeling of ennui and spiritual unrest.
★★½/☆☆☆☆☆