Down With Love: Oplev's American Debut Silly and Enjoyable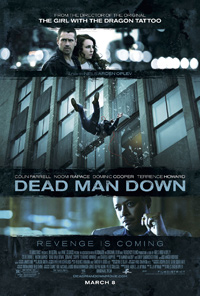 Reuniting with Noomi Rapace, star of his insanely successful 2009 adaptation of The Girl with the Dragon Tattoo, Niels Arden Oplev debuts his first American feature with Dead Man Down, a moody thriller that recalls both action genre vehicles of the late 70s, as well as studio melodramas of the 40s and 50s. At first a seemingly Hitchcockian scenario with echoes of Rear Window, the film swiftly swirls into a flashy revenge drama wearing redemption on its sleeve, for mostly enjoyable effect.
Victor (Colin Farrell) belongs to a ruthless gang in New York's seedy crime underworld, run by Alphonse (Terrance Howard), a pitiless man who reconnoiters buildings in the slums, amongst other illegal ventures. While Victor has become something of an older brother figure to the gang's runt, Darcy (Dominic Cooper), it quickly becomes evident that he has infiltrated Alphonse's gang to exact vengeance on him and his nasties for taking away something near and dear to him almost two years ago. Meanwhile, a fragile young woman, Beatriz (Noomi Rapace), recovering from a nasty car accident where she was hit by a drunk driver and has suffered some moderately noticeable facial scarring, has placed herself directly in Victor's orbit after she witnesses him murder someone in his apartment building. She lives directly opposite in the same complex, and blackmails Victor to assist her own plot of vengeance to kill the man that disfigured her. But as these birds of a feather get to know one another, assisted by Beatriz's overly attentive (and mostly deaf) French mother, Valentine (Isabelle Huppert), their feelings for one another take form, with love seemingly the only factor that may indeed salvage their bitter, dark destinies.
While Dead Man Down spirals generically into a grand action sequence, of which there are several highly unlikely coincidences, it remains a briskly paced and engaging film, sounding off intrigue as much as it does unwieldy and alarming plot points. Once Beatriz lands on scene with a delicious femme fatale entrance, we learn that she shares symmetry with Victor in more than just their location. However, there's an oddly unbalanced dynamic at work; he's lost a family and she's still a beautiful woman that, with time and a little make-up, will see her scars fade. His rage is internal and she sputters with rage at the assumed loss of her beauty/power (exacerbated ridiculously by a group of school children that taunt her outside of her apartment and call her a monster). But it's with Beatriz that Dead Man Down becomes (perhaps accidentally) a film with additional depth. On the surface, even scarred, Beatriz is no monster, but she's certainly one on the inside, literally wishing death on the man that accidentally maimed her. She's not unlike the Joan Crawford character in A Woman's Face (1941), though that character got a man AND a new face. J.H. Wyman's script doesn't concern itself with such foolhardy restorations, and is instead about redemption through the love of another.
Farrell and Rapace are quite likeable together, and for her part, her highly expressive visage lights up the frame every time she appears. But by far, some of the most enjoyable moments are set in Beatriz's apartment with her mother, a bit role for legendary Isabelle Huppert, here showing her expertise at taking a throwaway supporting role and making it one of the most memorable accents in the film. (And the surprises don't end there, as Oplev also has some bit roles for the likes of F. Murray Abraham and Armand Assante, and Terrance Howard is surprisingly effective as the vicious kingpin). While it's supposed to be set in New York, the film feels and looks like it's set in some darker, danker industrialized setting (and some portions were filmed in Philadelphia). Featuring tracks from French chanteuse Zaz, and Mono's haunting, "Life in Mono," Dead Man Down may have a few too many inconsistencies to be a great action movie, but it's union of two intriguing souls is well worth the watch.