Reviews
Oz the Great and Powerful | Review
Dour and Sorrowful: Raimi's Revamp a Hollow Echo of Magical Source Material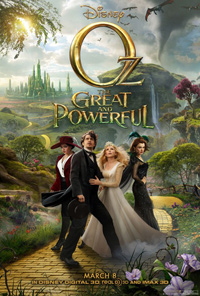 Serving as only yet another testament to the flaccid capabilities of blatant dependence on CGI to convey movie magic, Sam Raimi's Oz the Great and Powerful, which attempts to tell the origin story of the Wizard of Oz, tooled together from the wonderful series of books by L. Frank Baum, lands with a discernible thud of bland storytelling and forgettable characters. While Raimi, like Tim Burton before him with 2010's Alice in Wonderland, seems an odd choice for helming a Walt Disney film, it would be fair to say that only a minimal amount of his signature actually exists in this studio manacled effort that's not exactly for kids and definitely not tooled for adults. It exists in that awkward in-between land, a ride for everyone, filmed in 3D technology no less, which is so uselessly tooled for this title that we can only assume its tacked on to rape the pocketbooks of families more than likely to trundle their units into the multiplexes for a new trip down the yellow brick road.
Oscar Diggs (James Franco) is a two bit charlatan, operating as a magician in a traveling circus, leaving behind a trail of broken hearts wherever he goes. A classic fake-it-till-you make-it type, he's back in Kansas with the circus tour, fooling gullible audience members with the help of his mistreated assistant, Frank (Zach Braff). As Annie (Michelle Williams), an old flame, visits Oscar, whose nickname is Oz, to announce she is getting married, a fight breaks out, forcing Oscar to flee in a hot air balloon which gets carried away in a tornado. Of course, he's transported to the magical land of Oz, and greeted in his swampy landing by Theodora the Good (Mila Kunis), a witch who informs him that the king was recently murdered by a wicked witch who hides out in a forest and that he is the wizard prophesized to save their land.
In the interim, Theodora's sister, Evanora (Rachel Weisz) has been so gracious to run Oz. As Theodora quickly becomes infatuated with his charms, Evanora informs Oscar that he can only be the ruler of Oz and enjoy its significant riches if he travels to the Dark Forest and kills the Wicked Witch. As he sets out on his quest, and picks up a flying monkey, Franklin (voice of Braff) and a porcelain figurine known as China Girl (voice of Joey King), Oscar discovers that Oz is in fact being run by the wicked witch in disguise, while Glinda the Good (Michelle Williams), has been exiled to the forest. While Oscar is faced with the possibility of leading a land of people to freedom from the dastardly wickedness of Evanora, his treatment of Theodora has created an even more evil force to contend with.
Like its classic 1939 predecessor, The Wizard of Oz, Raimi begins his tale in black and white, populating Kansas with a multitude of characters we see reincarnated in Oz. But whereas Dorothy wakes up to the amazing sepia tones of a magical land, here we travel with Oscar inside the flat landscape of cartoons. (And let's not forget that Dorothy wakes up from a dream, which explains how her Oz was populated with familiar faces, while Oscar's Oz must be an alternate, twinned universe). While Baum actually never wrote an origin story for the wizard, one should have reasonably high expectations from the script developed by the likes of Mitchell Kapner and David Lindsay-Abaire, which spends more time developing character arcs for two computer generated characters than it does for any of its humans.
Those who adore the deliciously wicked Margaret Hamilton in the original film will be sorely disappointed by the wicked sisters here. While Kunis fares quite poorly, especially after a severely underwhelming transformation, Weisz is awkwardly declawed, her skills wasted away and replaced with shimmery dresses and feathery adornments. Williams gets the most screen time, since Glinda/Annie gets to be the love interest, and while she's surely nothing to complain about, she becomes simply another cog in an insignificant love story chugging along on the cliché express. And perhaps worst of all, the wacky and weird James Franco seems entirely miscast here, any charm or pizzazz straight jacketed into one dullard of a lead protagonist. Raimi and company may have avoided sinking Oz with gratingly awful cornball schmaltz (like that Johnny Depp dancing sequence in Alice in Wonderland), but the studio that hinges on creating magical family entertainment seems to have forgotten that magic, contrary to popular belief, is not created by adhering to formula.