The Americanization of Fertility: Scott's Sterile Remake a Stale Venture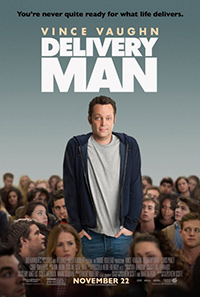 With Delivery Man, which is a remake of his 2011 French Canadian hit, Starbuck, director Ken Scott joins an elite group of filmmakers, such as Michael Haneke and George Sluizer, who have taken on the responsibility of directing English language remakes of their own prolific titles. Though these carbon copies, while even from the same authorial voices, are often subpar when compared to the first film, it often seems a protective and intriguing gesture. But even for those unfamiliar with Scott's first film, which was just as ridiculous but managed to muster a reasonable amount of hangdog charm to coast by, there's an unmistakable taste of canned inspiration at the center here, a tired formula that lazily regurgitates itself into the ill-fitting dress of the Hollywood star system.
David Wozniak (Vince Vaughn) is one of those loveable underachievers that finds friends wherever he goes but can never seem to get his act together. He works in the family meat business as a truck driver, a venture developed by his Polish immigrant father (Andrzej Blumenfeld), and is clearly the least dependable member of the family, currently struggling to get out of a staggering gambling debt, harried intermittently by low grade loan sharks. Just as his brother Aleksy (Bobby Moynihan) fathers his own child, David learns that his girlfriend Emma (Cobie Smulders) is pregnant, but she doesn't want her child to suffer the slings and arrows of life with an absent dad so she decides to cut David out altogether. Upset at this, David sets out to prove her wrong, and simultaneously discovers that a sperm bank snafu from the decade prior has resulted in 553 children from his 693 donations. Now, 142 of those children have filed a lawsuit against the sperm bank in an effort to discover the identity of the donor known as Starbuck. With the help of his down and out lawyer friend Brett (Chris Pratt), David sees a chance to get out of debt. However, the identity of these 142 children is at his fingertips, and he's tempted to see what they are like.
In comparison, there's not much different here, as Scott adapted from the original screenplay he helped co-write with Martin Petit. The charm of an affable loser like David rests squarely on the abilities of the lead star, and sure, Vaughn manages to have a little here, even if he is just another composite of similar ragamuffins in plenty of other standard mainstream comedies. The star of the original, Patrick Huard, is a notable French Canadian actor, and had an edge with his performance due mostly to the fact that he wasn't stifled by his own filmography.
But while Scott's story will undoubtedly reach a wider audience with this English language version, he's rested too comfortably on his laurels with Delivery Man, which may not be shot for shot, but feels less enthusiastic with the ridiculousness of its premise and repetitive jokes. If anything, a remake could serve as a second chance to improve on plot holes or less believable elements (ahem, the court case which catalyzes the narrative), but Delivery Man, all glossy and gussied up, arrives without a pulse, extolling the same exhaustingly unrealistic fantasy that parenthood is life's cure-all, even for hopeless losers.
Trying his damnedest is Chris Pratt as the broad comic relief, and he's the only discernible improvement, notably displaying the mileage that can be gained from great comedic timing, something Antoine Bertrand was less able to administer in the previous film. But all those glaring gripes from the formulaic original are, predictably, in full force here. Oh, and Scott's retitling leaves this scenario open to all sorts of ironies, most obviously that this time around, he's shooting blanks.