A Dybbuk Got Your Baby: Wrona's Atmospheric Blend of Horror and History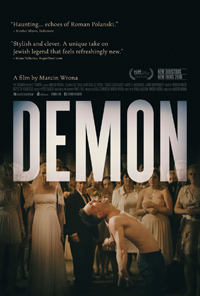 For his third feature, Marcin Wrona adapts Piotr Rowicki's stage play Adherence into an atmospheric horror film, Demon. Modifying the source material by changing its group of Polish gangsters to an energetic wedding reception blighted by the presence of a dybbuk (a Jewish demon), the Polish director continues the play's metaphor of how the past still seeps into and perverts the ignorant presence in a bid for necessary reconciliation.
Perfectly crafting an element of archaic tradition infected by past sins, expressive cinematography and felicitous set decoration helps amp up the discomfort. However, those looking to be surprised or expecting a reinterpretation of the film's obvious thrusts may be left feeling a bit cold by Wrona's grounded genre exercise.
Peter (Itay Tiran) has just arrived from England to marry his Polish bride, Zaneta (Agnieszka Zulewska), agreeing to undergo the ceremony at her family's rural home with all the traditional happenings. The property is a gift from his future father-in-law, a man leery about the foreigner since they've only really had a few conversations over Skype (Peter met Zaneta because he works with her brother). The night before the wedding, Peter unearths human remains on the property. The discovery begins to bother him during the reception, especially since everyone seems rather nervous when he brings it up. A series of epileptic fits plague Peter, who starts seeing the owner of the bones show up to the party, lonely and looking for love.
One of Demon's best elements is the ultra-expressive score, credited to Wrona's regular collaborator Marcin Macuk (who also scored both previous features My Flesh, My Blood and The Christening) and famed composer Krzysztof Penderecki, whose original works have been featured in genre classics like The Exorcist and The Shining and has composed specific soundtracks for Wojciech Has in The Sargossa Manuscript (1965) and Andrzej Wajda in Katyn (2007).
At times, the musical cues tend to override and blatantly direct the scope of several sequences, though the production design and locale often feel like menacing characters themselves. Itay Tiran is a likeable as our focal point, but several supporting characters tend to blend into the background, particularly his glowing bride. Instead, a loony uncle carries away the film's best bit of dialogue quoting Aristotle's observation on man as a social being, and those who do not engage are either 'gods or beasts.'
As the traditional Polish wedding ensues (anyone remember Theresa Connelly's 1998 film bearing that name?) and Peter embarks on the usual trajectory of possession, though this one's enhanced by a bit of historical heft (and additional eeriness from the gender role-playing Itay Tiran evinces), Demon often takes on dark comedic undertones.
Valiantly asserting he saw human remains on the property, his father-in-law retorts, "You saw it. I didn't," an easy evasion of responsibility for communities guilty of not resisting and allowing the desecration and murder of their fellow neighbors. At times, the dialogue does seem too pointed ("The whole country's built on corpses," someone quips), but Demon's agenda is to use genre as metaphor, something that elevates the film's sometimes inert structure.
Reviewed on September 11th at the 2015 Toronto International Film Festival – Vanguard Program. 94 Mins.
★★½/☆☆☆☆☆