The Kindness of Stranglers: Norris Mounts Film Version of Macabre Musical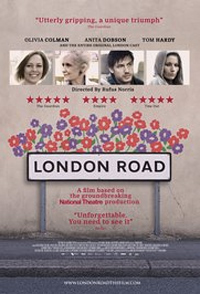 Those familiar with the infamous 2011 musical London Road should be pleased with this equally offbeat cinematic adaptation from originating director Rufus Norris of the critically acclaimed National Theater Production. Described as a verbatim musical, riffing on and implementing actual news sources and sound bites pertaining to the 2006 to 2008 infamous 'Suffolk Strangler' murders in Ipswich, the result is a polished, nicely choreographed and strangely offbeat film, comparable to the YouTube remixes of various viral news items. Told almost entirely from the perspective of the harried, 'respectable' denizens of the titular area, it's easy to see why the sensationalized case provides such intriguing fodder for this modern case study of privilege and the resulting sense of community grotesquely united together in the aftermath of these grisly events.
A majority of the film is crafted from the actual residents of London Road, from the perspectives of giddy young schoolgirls (Eloise Laurence), thrilled at the excitement this brings to their small town, to a variety of disgruntled women and wary male residents afraid of being eyed as possible suspects. Attracting most of our attention is Olivia Colman as a single mother who has no qualms voicing her disdain over the sex-workers, while Tom Hardy, her co-star of 2013's Locke, appears as a suspicious taxi driver who likes to share his unnerving knowledge of serial killers with random female passengers. Eventually, a suspect is arrested after the body of a fifth woman is discovered, a resident of London Road. The community attempts to reassert itself as a decent neighborhood of hardworking, upright citizens following the media firestorm and eventual trial.
Those enamored with the traditional structure of what constitutes a musical may be disappointed as the songs are actually reconstituted fragments taken directly from transcripts and interview footage. This makes for an inventive hybrid of narrative and documentary cinema, sort of like Clio Barnard's The Arbor meets a desaturated Sweeney Todd. With its female sex workers as victims, one can't help but recall the legacy of Great Britain's other notorious serial killing legend, Jack the Ripper. Except now we have firsthand accounts of the boiling resentment of affected residents, many oscillating between moments of judgmental damnation to politely subdued empathy for the vulnerable women working the streets.
Eventually, a stagnant pallor tends to grace the production of London Road. Danny Cohen, regular DoP for Tom Hooper, captures a murky, drowned out neighborhood quite effectively (in 2015, he's also worked on The Danish Girl, Room, and Stephen Frears' Florence Foster Jenkins), and expert editor John Wilson (The Cook, the Thief, His Wife, & Her Lover; Billy Elliott) enhances some impressively choreographed sequences with singing townsfolk.
Hardy fans may be disappointed since he only appears in two sequences, though it's interesting to hear him in song-song. The standout here is really Colman, an unlikeable and judgmental shrew of a woman. We're left wanting more screen time with the prostitutes, here represented as feral creatures cast out into the cruel periphery. As told almost completely from the perspective of the privileged survivors (who were arguably never really in danger since the murderer only targeted sex workers), London Road seems more a damning testament to the continual callousness towards humans outside of traditionally defined community. Norris, who made his debut with 2012's likeable Broken, reteams with some of his supporting cast from that film, though considering the source material and pedigree of production, this should reach a wider audience.
Following the trial, London Road becomes a flowering garden, the neighborhood coming together to give it a necessary face-lift, painting walls, decorating the streets and projecting a sense of wholesome family value. During a celebratory get together and garden judging contest following the climax, one of the neighborhood's previous prostitutes drifts through the jubilee, climbing a scaffold to gaze down at the revitalized community. It's a touching, spectral moment, like looking down at a grave that's been overlaid with flowers—only, they're meant to extinguish the memories of the slain women rather than honor them.
Reviewed on September 10th at the 2015 Toronto International Film Festival – City to City Program. 92 Mins.
★★★/☆☆☆☆☆