Despite of His Rage: Borte Bottlenecks with Brutal Thriller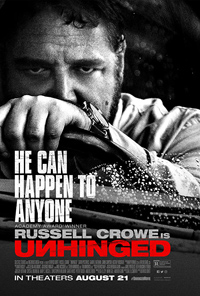 Road rage finds a suitable vehicle in the latest film from director Derrick Borte, Unhinged, which finds Russell Crowe in terrifying form as a white man on a vicious rampage with nothing to lose. If this sounds somewhat familiar, it bears striking resemblance to Joel Schumacher's prescient drama Falling Down (1993), though Carl Ellsworth's script collapses the complexities of that character study into a roid rage retrofit.
Speckled with moments of sometimes shocking violence, Borte has concocted a contemporary version of logical extremes, even if it sometimes marks his film as the progeny of 1970s exploitation cinema.
A man (Russell Crowe) at the end of his tether, kills his ex-wife and her new partner in a jealous rage and burns down their home in New Orleans. The next morning, a frazzled single mother (Caren Pistorious) crosses paths with the man while bringing her son (Gabriel Bateman) to school. Harsh words are exchanged and the man takes it upon himself to teach the unapologetic woman a violent, dire lesson.
Grasping bottles of pills and tossing off the last vestige of his humanity, here in the form of a wedding ring, the final artifact of his one meaningful life, Crowe's unnamed antagonist barrels his way into Unhinged with a bang following its tense credit sequence montage highlighting growing urban restlessness.
It's a far cry from previous offerings by Borte, the German born director whose debut was the 2009 David Duchovny-Demi Moore social issue comedy The Joneses. Ellsworth, who has scripted a number of thrillers, from Disturbia (2007) to a pair of Wes Craven outfits, such as Red Eye (2005) and the 2009 remake of The Last House on the Left, knows something about tapping into the primal anxiety of onscreen violence which actually retains shock value to desensitized eyes.
A brutal murder in a café in broad daylight to a expertly choreographed showdown between Crowe and Pistorius nearly make up for some significant plot holes and illogical instances. What's perhaps more impressive is how Crowe crafts an intense personality who generates some empathy—not that his actions are ever justified, but as a human who feels he's lost his humanity lashing out. This is perhaps allowed to flourish because the script doesn't seem to convey the same care for Rachel.
Though well performed by Pistorious, who strongly resembles Kate Winslet, she's a character who is also defined by her own perceived entitlement, and one wishes there was a bit more subtext to this cat-and-mouse thriller which muscles its way to a third act much like some recent Halle Berry vehicles, The Call (2013) and Kidnap (2017) but without proper justification for the prolonged interplay. Easily, the first nail-biting act remains the strongest, with New Orleans traffic lights taking on a Godardian absurdity fit for Weekend (1967). A crashing score by David Buckley heightens the effectiveness in this dark odyssey into "America's Heartland," as the license plates inform us.
★★½/☆☆☆☆☆