Afternoon Delight: Enjoyable, Downplayed Provocation from Labute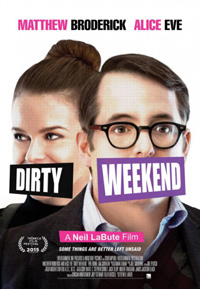 Walking into a film called Dirty Weekend knowing it's directed by Neil Labute, an author known for his pointedly misanthropic views of humanity often criticized for misogynistic tendencies floating around in his glorified explorations of the pathetic trappings of masculinity, one may have certain assumptions. Collaborating once again with actress Alice Eve following the enjoyable 2013 two-hander Some Velvet Morning, Labute concocts another dialogue heavy vehicle once again vaguely informed by titillating possibilities. Surprisingly, it's potentially his least barbed appraisal of humans behaving badly to date, but ultimately never comes to the sort of money shot we're expecting. Because of this, it leaves one with an abrupt jolt of being just another exploration of middle-aged malaise seen many times before, even though Labute manages to filter it through a pair of otherwise entertaining characters.
Stepping off the plane from Los Angeles to Albuquerque, it would appear Les (Matthew Broderick) and Natalie (Eve) are a couple, though we soon learn they're business colleagues rather superficially acquainted. Stranded due to inclement weather circling Dallas, where they're headed to for an important conference, they decide to leave the airport and explore the city. As Natalie makes valiant attempts to break the ice between them, first by revealing some rather intimate details about her S&M tinged relationship with a girlfriend back home, Les admits he was in Albuquerque not long ago, and had engaged in a one night stand with someone he's desperate to reconnect with but feels guilty because he doesn't know how to tell his wife. With only a slip of paper from the exchange, his memory fuzzy thanks to the amount of liquor involved (which leads Les to eventually question the gender of his one-time lover), the colleagues re-trace his steps and head out to explore the up-side of a dirty weekend.
Initially rather preposterous considering we're unsure of the nebbish Broderick's intentions and abilities, the more details we learn the more interesting his casting is here. At nearly every chance at titillation, Labute swerves into more pragmatic territory, especially concerning his handling of Eve's Natalie, a woman wearied at the upkeep involved with being the subordinate in a highly controlled relationship, curiously acting as an exaggerated version of monogamy in this instance.
Once we establish there will be no sexual interplay between its leads (they've coined themselves Butch and Sundance), Dirty Weekend does manage a rather droll tone as it predictably lurches towards the inevitable moment when Les encounters the mysterious lover from his past visit. But the enormous amount of repartee makes it seem as if this would've been more successful as a stage play, especially considering some awkward moments with supporting characters, like a recurring taxi driver obnoxiously spouting common Shakespearean epithets or Les' sometimes exaggeratedly withering engagement with people (like clocking a waiter for greeting them with a "good morning").
On the other hand, Labute still belongs to a select group of filmmakers continuing to grapple frankly with issues regarding sexuality (at least outside of his problematic ventures into mainstream filmmaking), so it's curious to see him engage without blatant affronts to his character's emotional well-beings this time around. Amusing, if ultimately an easy target for many to lambast as forgettable or even trite, Dirty Weekend is still worth a look (especially if you compare it to another title starring Alice Eve opening in US theaters the same weekend, Before We Go, the directorial debut of Chris Evans', an example of the superficial cinematic tendencies Labute's title certainly is not).
★★½/☆☆☆☆☆