Things Not Forgotten: Zhimou Returns to Period Tragedy with Middling Results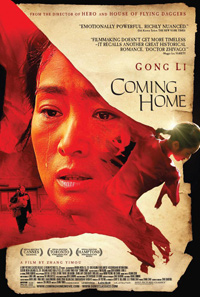 Chinese auteur Zhang Yimou, known recently for elaborate adventure films like House of Flying Daggers (2004) or Hero (2002) returns to the graceful vein of his earlier character driven classics, like 1991's Raise the Red Lantern with Coming Home. Based on a novel by Yan Geling, who penned the source material for his last film, the 2011 WWII drama The Flowers of War, starring Christian Bale, theFifth Generation filmmaker isn't able to attain the same sense of masterful melodrama here, with a scenario that's sometimes emotionally potent but never quite convincing. Using this particular bout of misery to cast criticism on the aggressively untoward policies of the country's troubled past, even these political underpinnings seem underutilized with this conservatively administered tale of familial woe.
In early 1970s China, the Cultural Revolution has begun to fade, but perhaps not quickly enough. Teenage ballerina Dandan (Zhang Huiwen) hopes to land the lead in a major production at school, but her chances are thwarted by the propaganda director (Guo Tao) because of her father, Lu Yanshi (Chen Daoming), an academic labeled a prisoner and carted off when she was only three years of age. However, Lu has recently escaped his labor camp, and so the authorities show up at his wife Feng Wanyu's (Gong Li) doorstep to see if he's made contact. Shortly after, Lu does show-up, slipping a note under the door to his wife, then running into his daughter in the stairwell. Bitter about losing her role in the play, Dandan reports him, and the authorities nab Lu as he attempts to meet Feng at a crowded train station. When Lu at last returns after the revolution has ended years later, he finds Feng no longer remembers him, suffering from psychogenic amnesia.
Yimou's regular muse Gong Li proves to be the film's most noteworthy element, supplying Feng Wanyu with the emotional core the script does not. We never have the chance to get a sense of what her relationship is with her husband prior to the film's narrative thrust. When they're at last reunited, following the film's most energetic moment when the authorities violently yank husband and wife away from each other (a sequence that could have been built up to be made more emotionally potent),
Li's Feng frustratingly suffers from an amnesia sometimes conveyed as a disease of convenience since no one can quite explain when this happened. With Lu gone for twenty years, we can't blame it specifically on her hitting her head in the film's violent scuffle since Dandan explains it happened for only about the last year or so. These inconsistencies help foster the film's soapy qualities, and the film feels more of the period it started in than about that period specifically.
In many ways, this is the type of dramatic tension explored in many American romantic comedies and dramas, like the overbaked The Vow (2012), in which a husband must convince his wife to love him all over again following a devastating car accident. It doesn't help that the actors surrounding Li aren't grounded in the same depth, such as the rather weakly drawn daughter played broadly by Zhang Huiwen. As the painstakingly patient husband, Chen Daoming is given little to do but look perpetually concerned.
And though Yimou somehow manages to tie this barren package up into a final moment of poetic melancholy, one can't help but feel it's a far cry from the incredibly moving heights of past works.
★★½/☆☆☆☆☆