Time After Time: More Snark, Less Spark in Derrickson's Entry into the Marvelverse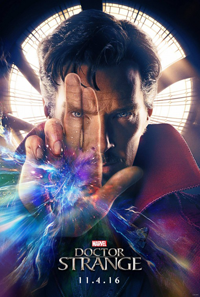 Marvel introduces their approximation of the mystical realm with their unleashing of Doctor Strange, the first theatrical mounting of the egotistical, mystical surgeon destined to be the Sorcerer Supreme, a powerful wizard protecting mankind from the metaphysical in an ornate New York mansion called the Sanctum Sanctorum. Headlined by Benedict Cumberbatch, who is surrounded by an illustrious supporting cast, (those who find Marvel's output reduced to vacillating between milquetoast perceptions of indefatigable heroism or agonizingly juvenile, hyper self-aware protagonists marketed for adults based solely on the frequent use of expletives), may find a calmer, slightly introspective middle ground with Scott Derrickson's handling of the material. Reuniting with his Sinister scribe C. Robert Cargill and Jon Spaights (The Darkest Hour; Prometheus), it's an efficiently paced origin story for the prideful doctor, made possible for having a limited number of supporting characters we don't get to know very well but are at least portrayed by performers who have screen presence (despite the unpleasant specter of whitewashing regarding a character initially conceived as Tibetan). Riddled with the same sense of formula (a nasty bad guy plans on destroying the universe, which he can accomplish if he manages to successfully employ a spell stolen from the master he's rebelling against), small glimmers of substance glimmer through the usual predictable cadences bequeathed upon the budding superhero fast track.
Genius surgeon Dr. Stephen Strange (Cumberbatch) is highly sought after for his talents, but he gleans most of his joy from either upstaging his colleagues (Michael Stuhlbarg) or leading them on in meaningless romantic flirtation (Rachel McAdams). When his extreme cockiness results in the ruination of his hands, he falls into an emotional tailspin. After a physical therapist gives him information on a man who learned to walk again despite severe nerve damage to his spine (Benjamin Bratt), Strange is led to Kathmandu, where a woman known as the Ancient One (Tilda Swinton) allows him to study Eastern concepts in meditation, mysticism, the martial arts, and how to convince his body to heal itself. The thorny doctor soon becomes chummy with her other cohorts, including Mordo (Chiwetel Ejiofor). However, Kaecilius (Mads Mikkelsen), a rogue student of the Ancient One, has stolen a dangerous spell which will unleash something known as The Dark Dimension. Strange must assist the Ancient One and her acolytes if the world is to remain a place of hope and whatnot.
Throughout all these endless renditions of Marvel characters pouring into the multiplex (with no end in sight), one wonders when we won't be coaxed into caring for staunchly obnoxious characters as unappealingly arrogant as they are unconscionably pretentious. Cumberbatch, who opens the film as a suave narcissist who might as well be making a bid to be the next Bond, quickly reveals Doc Strange to be nothing more than a pompous bore, hewn out of privilege, and despite his intelligence, unable to see the limitations set by his own hubris. This pretentiousness only worsens on his trip through the Ancient One's mystical teaching, gorging himself on studies too lofty to even suggest to its film audience beyond something called the Eye of Agamotto, which collapses time and causes potential imbalance to the 'natural order' (on a side note, this seems exactly what those creepy villains would have wanted in Miss Peregrine's School for Peculiar Children).
Styled like an unkempt Moses, and then eventually the pomade enhanced doppelganger of a contemporary Fu Manchu, Cumberbatch's Doctor Strange remains an immovable jackass throughout his journey to enlightenment. Staunchly unappealing bids for comic relief fall woefully flat, especially in a repetitive bit where Strange tries to rib the librarian Wong by namedropping a variety of musical artists known only by their first name (a sequence featuring "All the Single Ladies" feels particularly painful). Worse, the forced romance and reunion with lady doctor Rachel McAdams, forced into a subordinate position even after the man has come to his romantic senses, reduces her to nothing more than an object in her repertoire, not unlike a finicky coat of levitation which has chosen him to be its master.
Tilda Swinton, as always, is a striking presence as the imperial Ancient One, and she brings a priceless gravity and wit to this silliness (meanwhile, a bemused Mads Mikkelsen, while entertaining as he stomps around in fluctuating landscapes, needs more of a backstory). The character she portrays was written as a Tibetan monk, but her origins were reformatted as a mysterious Celtic being for the purposes of this film. Her casting brought about a bit of controversy, another in a string of whitewashing studio films, not far removed from recent debacles helmed by Ridley Scott and Alex Proyas. If anything, her casting is perhaps most egregiously sacrilegious to the original material's fans—but even while Hollywood works on its racial hang-ups, there's still worth to be had from an integral comic book figure revamped for a prominent woman. Chiwetel Ejiofor conveys certain intensity as Mordo, basically the Ancient One's minion and procurer of new recruits seeking her teachings, while Benedict Wong as Wong seems to be around for mere comic relief (when in fact he ends up having a much more integral relationship with Strange in the character's lore).
DP Ben Davis is no stranger to the Marvel universe, having lensed Avengers: Age of Ultron (2015) as well as Guardians of the Galaxy (2014). Although the transmogrifying landscapes of alternate dimensions represented in this sprawling multiverse often resemble a whirling kaleidoscopic video game, overwhelming the eye with its 3D extravaganza panoramas of cities collapsing into and onto one another, several sequences suggest a bit more attention to detail than the usual mixture of glossy explosions and hyperkinetic fight sequences. On more than one occasion (particularly during Swinton's introductory monologue as she astral projects Cumberbatch's know-it-all through visual splendors of an endless cosmos), the visual designs resemble a rigid, hard-angled impression of Salvador Dali.
Arguably the least blanching of the recent Marvel tent poles, any success managed by Derrickson's entry is accomplished mostly by discerning casting choices. Those who can't get enough of snarky, privileged megalomaniacs will most likely find enough withering verbal abuse and demeaning sentiment thrust upon the characters orbiting Strange to rival the assholeism of Tony Stark. For anyone else tired of these monotonous characterizations of 'superheroes' who have everything and sacrifice nothing, this will probably feel like more tensionless fodder where we know our titular protagonist will survive anything and everything because he's contractually obligated to complete his franchise duties.
★★½/☆☆☆☆☆