Full Metal Hacksaw: Gibson Returns to the Director's Seat for an Anti-War Film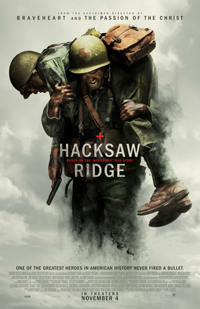 Perhaps it was only inevitable to find actor-turned-director-turned-showbiz pariah Mel Gibson tackle the atrocities of WWII considering his filmography. He does so with middling effort in Hacksaw Ridge, his first stint behind the camera since 2006's Apocalypto. In the decade since, Gibson has mounted a grueling, painstaking comeback following a highly publicized personal scandal, which has found him appear infrequently in front of the camera in projects designed specifically with his tarnished celebrity in mind (The Beaver, 2011). Although not at the level of his former glory (distributor Lionsgate's anxiety is evident in the poster art, which foregoes listing the director's name in favor of his credits), Gibson's return to the director's seat is a merely sees resuming with the same comforts and interests of previous films, joining a solicitation of Christianity with the dreadful results of wartime conflict. Cultural discord has been at the center of nearly all of his films as director, while his latest makes a plaintive, if problematic argument for peace in the midst of all the breathless bloodshed as it relays the true story of Desmond Doss, the first conscientious objector in the U.S. to receive the Medal of Honor. Schmaltzy and hackneyed, despite some glaring bits of hard-won, gritty emotion, this old fashioned rendering of heroism will most likely appeal to the unquestionably patriotic, while those suspicious of religious zealotry will feel alienated by Gibson's resumed pandering to narrow-minded conservatism, where cultish behavior and rationalizations are bolstered by astounding feats categorized as miraculous.
In the spring of 1945, a youthful Seventh Day Adventist from Virginia, Desmond Doss (Andrew Garfield) made history fighting for his country while engaged in one of the bloodiest battles of WWII in Okinawa, known as Hacksaw Ridge. A conscientious objector, Doss stood firm against the commands and critiques of his commanding officers (Vince Vaughn, Sam Worthington) to become the only American soldier in WWII to fight on the front lines without a weapon. The film offers up instances from his childhood and familial development with an alcoholic father (Hugo Weaving) and a staunchly religious mother (Rachel Griffiths) to explain his wish to fight for his country without the use of weapons.
Gibson assembles a handsome cast of notable supporting players, although some of them feel a bit too exaggerated to feel sincere, including a lazily administered change-of-heart for Doss' most vocal opposition played in tones of the usual masculine clichés by Luke Bracey (in a performance easier to fathom, at least, than his appearance in the all-around ill-conceived Point Break remake). But scribes Andrew Knight (who mostly works in television but also scripted Russell Crowe's directorial effort The Water Diviner in 2014) and Robert Schenkkan (who has also worked as a television writer since adapting Graham Greene's The Quiet American for Phillip Noyce) give leverage to Doss' interactions with his combative superiors (a rather kitschy but likeable Vince Vaughn fares better than a somnolent Sam Worthington), underlining his developmental difficulties with authority figures thanks to his alcoholic dad.
While Rachel Griffiths appears in an utterly thankless role, Hugo Weaving scores the only authentic non-combat sequence as a father who breaks down at the dinner table when he learns his elder son has enlisted. It's a sequence which could have easily veered into the usual notes of manipulation, but Weaving manages something genuine with otherwise ordinary, familiar material. Theresa Palmer is fashionably styled but isn't featured enough to be more than a mere sympathetic love interest as Doss' wife, Dorothy.
And as the indefatigably earnest Desmond Doss, headliner Andrew Garfield slathers on the sentiment as a self-righteous Christian who courts immortal martyrdom as a brave innocent who miraculously saves the lives of seventy-five wounded men on Hacksaw Ridge by himself and without cover. Garfield's persona is reminiscent of Anthony Perkins with a southern drawl and he's immediately presented as a self-righteous beacon, leaving the supporting characters to be demeaned as spiritual prigs who dare to mock Doss' insistence on honoring his Sabbath day during wartime. Gibson inserts euphemisms for Doss' religious rhetoric, often utilizing the terminology 'conviction' to drive home the unyielding tone professing his tale as evidence not just for mankind's humane capabilities and the possibility of peace against all odds, but as a testament to the mysterious workings of the Judeo-Christian deity controlling the multiverse.
Though Hacksaw Ridge is certainly well-intentioned and highlights the extreme selflessness and bravery of a man whose heroism should not be diminished by nitpicking Gibson's representation of him (or those who staunchly oppose his beliefs), the film's insistence on simultaneously championing Doss' religious views dilutes whatever repulsion is established by the grueling, violent combat sequences.
Although nowhere near the torture porn juggernaut of Gibson's The Passion of the Christ (2004), his Hacksaw Ridge still has potent, stomach churning depictions of ground combat massacres. And yet, it seeks to maintain itself as evidence or at least as a rationalization for unwavering faith in the same old balderdash regarding the worship of a being permitting small miracles for a chosen few, but insistently allowing a majority of humanity to rend itself from limb to limb. As such, Hacksaw Ridge plays like recent Christian agenda flavored fare like Miracles from Heaven (2016) and Little Boy (2015). It's not so much a film about peace masquerading as a war film, but a heavy-handed faith-based agenda exercise.
★★/☆☆☆☆☆