Vacant Domicile: Shepard's Latest Hides Absence of Narrative Behind Titular Character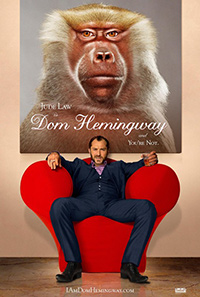 As foul mouthed and over-the-top as it sometimes tends to be, Richard Sheperd's latest, Dom Hemingway falls a bit short absurd glory, considering the balls out bravado it promises prior to the opening credits. While it features perhaps one of the best performances of Jude Law's career, its raunchy energy fizzles out by the mid-point as it switches gears from uneasy gangster flick to family dramedy. That's not say it isn't without merit, as even though the plot can't get it together, Shepherd's got a knack for engaging dialogue and entertaining characterization, something the film tends to bank on a bit too broadly.
Loud, onerous and with a tendency to spew curse word laden diatribes like an acolyte of Tom Hardy's Bronson character, Dom Hemingway (Law) has just been released from prison after serving a twelve year sentence by taking the fall for his powerful boss, Fontaine (Demian Bichir). With his best friend and cohort Dickie (Richard E. Grant) awaiting his release, they take off to France so that Dom may accept his reward from Fontaine for keeping his trap shut (but first, a minor but very violent pit stop to beat down the man that married his ex-wife, a woman now dead from cancer). Arriving at Fontaine's impeccable villa, Dom expects to receive more than just money and makes an unwise bid to bed Fontaine's sexy lady friend, Paolina (Madalina Ghenea). Light sparring ensues, but then they kiss and make up, letting tone deaf Paolina serenade them before they get drunk and high, carousing off into the night down dirt roads in homage to A Clockwork Orange. As they get into a deadly car crash, Paolina absconds with Dom's money while he stays behind to save the life of Melody (Kerry Condon). Bereft and bitterly angry, Dom tries to connect with the son of an old rival (Jumayn Hunter) while trying to rebuild a relationship with estranged daughter Evelyn (Emilia Clarke).
Opening with a ballsy bravado of loudmouthed Dom getting fellated by a fellow inmate as he waxes poetic about his exquisite manhood, one can at least cherish this flourish which might have gone to the cutting room floor like the bisexuality of the Pierce Brosnan character in Shepard's 2005 film The Matador not quite a decade ago. Unfortunately, Shepard's envelope pushing abates midway through the film and our ability to see over Dom's bravado and into the lack of narrative becomes more and more apparent, ending up with a soupy hodgepodge concerning the rekindling of his familial relations. Richard E. Grant plays an excellent straight man to Law's zany Dom—if only they had something worthwhile to do, all would be well.
Law, who put on thirty pounds for the role, is an arresting energy as a man not quite gone to seed, but getting there. At just a titch over ninety minutes, Dom Hemingway still feels a bit too long, even as it rushes through motions that make everything seem insincere. Dom's a selfish loser, and his desire and earnestness to reconnect with Evelyn (a rather subdued role for Clarke) seems to be only because he has nowhere else to turn. And thus, Sheperd's film feels like one long, sometime jocose, bellow.
★★½/☆☆☆☆☆