The Art of War: Nolan Wages War of the Senses in Visceral Reenactment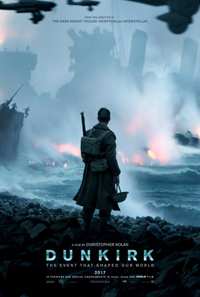 On all accounts as noble a cinematic endeavor as it is sheer visual spectacle, Christopher Nolan proves once again to be one of the few master auteurs to be using the studio system to his advantage with Dunkirk. While it brings to mind the scope of Spielberg's Saving Private Ryan (1998) and a flurry of other cinematic reenactments of infamous battles, Nolan settles on a triptych of narrative threads to relay a story of survival during a grueling salvaged retreat.
Settling in upon groups of men working from land, sea, and air to extract Belgium, French, and British troops from the eponymous locale after becoming hemmed in by the Germans, Nolan recreates a solemn air of honor and sacrifice amidst his galvanizing panoramas of bullets, bombs, and explosions. A lofty divorce from Nolan's usual genre oriented flavor, this plays best as a multi-perspective experience of survival and rescue rather than a character driven ensemble as suggested by its cast.
As leaflets from the German army flutter over Dunkirk, announcing they have surrounded the area, Tommy (Fionn Whitehead) is the lone member of his straggling group of soldiers to escape the fire of sharpshooters and find safety behind the French barricade. But he finds himself with a host of other Allied troops stuck between the shores of Dunkirk and the sea as the Germans advance.
With ships being sank on their way to rescue men, the British navy only allows for one vessel at a time to transport troops. Meanwhile, British civilians are asked to sail to Dunkirk to do what they can, leading a father (Mark Rylance) and his two sons (Tom Glynn-Carney, Barry Keoghan) to respond. And lastly, from up above, Spitfire pilots Collins (Jack Lowden) and Farrier (Tom Hardy) attempt to rescue the vessels down below by taking down German planes arriving to attack.
Nolan's Dunkirk recalls the regal nobility outlined in David Lean and Noel Coward's propaganda film In Which We Serve (1942), which details the story of a British Destroyer as told in flashback by survivors on a life raft. Similarly, the heroism depicted in Nolan's rendering of the civilian fleet, which came valiantly to the rescue, is reminiscent of the film within a film of Lone Scherfig's Their Finest (2016), as pertains to an exaggerated account of soldiers rescued at sea.
The real stars of the show, however, are the technicians behind the scenes, including Nolan, DP Hoyt Van Hoytema, and perhaps most spectacular of all, a commanding, coercive score from Hans Zimmer, which underlines the emotional subtext of every sequence. Familiar faces, such as Mark Rylance, Kenneth Branagh, Cillian Murphy, and Tom Hardy (who is almost entirely obscured by his pilot's mask) share equal screen time with a clutch of youthful soldiers, the most prominent of which is Fionn Whitehead. Killian and Hardy were both memorable alums of Nolan's Batman franchise, but are here utilized as mere impressions of men during wartime. Meanwhile, Rylance and Tom Glynn-Carney carry away the film's most affecting moments as they navigate the loss of a loved one in the midst of a precarious rescue.
Filmed on an epic, sprawling canvas, which is perhaps most terrifically captured in its quiet, closing moments, (as Hardy's Spitfire glides gracefully over a beach littered with departing soldiers), Dunkirk's narrative scope is Nolan's most concise to date.
While its perspectives overlap, and sometimes intersect, this isn't the complex labyrinth of Memento (2000) or the philosophical seepage of Interstellar (2014). Immersive, especially in the lead up to its finale, Dunkirk is ultimately more an intriguing exercise from Nolan than it is a transporting or even unflinching wartime narrative.
Beautifully constructed, even during moments of labored editing where it staples the most anxious moments of its juxtaposed segments on top of one another, it's the type of accomplishment which will garner enthusiastic praise from the director's fans, while perhaps standing as this year's must see event in 70mm.
★★★½/☆☆☆☆☆