Reviews
Dying of the Light | Review
Does Not Go Quietly: Schrader's Latest Tampered Product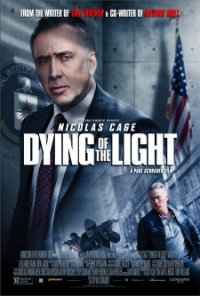 Veteran film director and screenwriter Paul Schrader just can't seem to catch a break. Much like the fate of his 2003 Exorcist prequel, his latest directorial effort, Dying of the Light has also been reedited, scored and mixed without his approval, which led to a quiet movement of protest via social media where Schrader asked audiences to avoid this studio product, which also included the support of stars Nicolas Cage and Anton Yelchin. However, it's just the kind of publicity that would perhaps enliven interest for a film that would otherwise have flown under the radar (and one thinks Cage should have asked audiences the same request of this year's earlier release of Left Behind, instead). Rife with a series of awkward developments and bizarrely presented characters that are grimly determined to maintain an aura of stilted seriousness that does its clichéd narrative no favors, it's neither Schrader's best nor worst work.
Twenty two odd years after being taken hostage by terrorist Muhammad Benir (Alexander Karim), CIA agent Evan Lake (Nicolas Cage) receives Intel suggesting that Benir is still alive and hiding out in East Africa, a chain of specific medication for a unique and deadly medical condition leading right to him. Ironically, this information arrives on the eve of Lake's forced retirement as he's been diagnosed with frontal temporal dementia and doesn't have long before the aggressive disease has overtaken his consciousness. Stripped of his badge after a heated altercation with his superior, Lake depends on his only friend, colleague Milton Schultz (Anton Yelchin), who travels with Lake to Romania to investigate the physician prescribing the meds for his mysterious patient. Once there, they are aided by an old colleague of Lake's, Michelle Zuberain (Irene Jacobs).
However Schrader could have re-edited this title, he still would have had an over-the-top Nicolas Cage performance on his hands, albeit an entertaining element that rather elevates the film's energy. Once he receives the diagnosis for his frontal temporal dementia, which will leave him prone to exaggerated reactions, it seems Schrader at least cast the role effectively, if nothing else. Cage shakes and grimaces, gnashes and shouts, a ball of furious spasms that's never dull to watch. In a film better processed to tempering his jagged edges into a more cohesive whole, perhaps it wouldn't feel as if the film was exploiting the overzealous performer. As his cohort, Anton Yelchin seems stuck in a baritone whisper, an oddball sidekick never given any real character elements—he's just there to help out. Likewise, late Kieslowski muse Irene Jacobs somehow got roped into this as Cage's ex-flame.
Basically an espionage tinged revenge flick that seems to have been inspired by early fantasies of tracking Osama Bin Laden via his condition as a diabetic, its showdown between two ailing enemies plays out all too conveniently, even with a last minute double back after a surprisingly violent retaliation in the film's final frames.
Compared to other grizzled peers of Cage, Dying of the Light is more enjoyable, in all its generic glory, than Kevin Costner's dying agent in 3 Days to Kill. And while it doesn't have the pep and pizzazz of Pierce Brosnan's The November Man, Schrader at least plays within the particular parameters he's established rather than overreaching his bounds. But then, we're talking about a product that the filmmaker hasn't approved, so who knows what could have been. On the heels of the messily delivered Lindsay Lohan headlined The Canyons, one had wished Schrader would have at least been granted authoritative control for a change.
★★½/☆☆☆☆☆
Nicholas Bell
Los Angeles based Nicholas Bell is IONCINEMA.com's Chief Film Critic and covers film festivals such as Sundance, Berlin, Cannes and TIFF. He is part of the critic groups on Rotten Tomatoes, The Los Angeles Film Critics Association (LAFCA), the Online Film Critics Society (OFCS) and GALECA. His top 3 for 2021: France (Bruno Dumont), Passing (Rebecca Hall) and Nightmare Alley (Guillermo Del Toro). He was a jury member at the 2019 Cleveland International Film Festival.