More Love & Basketball: Huang's Debut Goes Through the Motions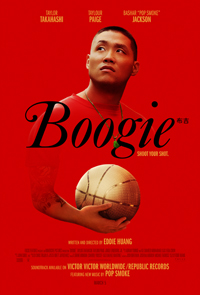 Eddie Huang, producer of "Fresh Off the Boat," makes his directorial debut with Boogie, a familiar coming-of-age narrative which features a pair of fine lead performances and a striking combination of representation. Some finely pitched humor assists in alleviating a dramatic arch which otherwise plays by the books, but there's much to admire in Huang's more explicit subtextual references. For anyone who's seen a high school melodrama about an underdog involved in any kinds of extracurricular activity, this sports drama also feels a bit old hat even with the various intersections which would have made this seem like a novel feat two decades ago.
Alfred Chin (Taylor Takahasi), better known by his nickname 'Boogie,' is an aspiring basketball star in Queens, New York, goaded by his parents to succeed in an arena which has dictated students of Asian descent cannot succeed. Pressured by his parents to receive a scholarship, Boogie allows himself to become involved in a desperate scheme to achieve his goals by whatever means necessary. However, a budding romance with Eleanor (Taylour Paige) complicates matters, along with a contentious rivalry with Monk (Pop Smoke), who used to date her.
Despite having to portray a character with a potentially abominable nickname, Taylor Takahashi manages to be charming, albeit on the sidelines when he isn't performing the usual jocular machismo associated with high school athletes. Beneath the veneer of his posturing, he's another teenager trying to balance the stress of success for his family and his culture, the outcome of which will defy stereotypes across the board concerning Asian men playing not only basketball but any iteration of athletic activities. This plot hinges on his nabbing a scholarship, and the most interesting aspects of Boogie sometimes feel lost beneath Huang trying to satisfy the needs of audience expectations and athletic third act feats. But really, how Boogie finds himself lassoed into an impossible situation in signing away his future to a scholarship in China, plus his own family's Shakespearean-style sabotage, is really what grants the narrative a semblance of an unique perspective.
At the same time, the most authentic moments tend to transpire accidentally. Charlamagne Tha God appears as a potential scout, confused about the difference between China and Taiwan. Someone uttering the line, "Oh, uh, it's complicated," ends up being the funniest bit of cultural commentary. A tenuous romance with Taylour Paige's Eleanor sometimes feels a bit forced, especially when the characters are forced to share jibes about the slings and arrows determined by their disparate cultural disenfranchisements, and sometimes it feels as if the actors should have had the liberty of modifying these moments for more authentic expressions. But Paige, who shined so brightly as a supporting player in the impressive ensemble Ma Rainey's Black Bottom (2020), is otherwise an effortless, captivating presence, so inviting one wishes her romance with Boogie could have been the central element.
As far as their student interaction scenes, Huang scores points for a reinterpretation of Holden Caulfield from Salinger's eternally beloved The Catcher in the Rye. If Caulfield has served as a cultural icon for outsiders (at least in the limited literary realm, albeit one which has courted the attention of problematic pariahs), what of a student body forced to or expected to revel in the dilemma of a privileged, bygone youth from an era which no longer resonates? It's these conversations and subtexts which make Boogie feel smarter than a synopsis implies, but Boogie doesn't ultimately elevate beyond being a product of the kind of output it seems to be critiquing.
★★½/☆☆☆☆☆