Albatros (Drift Away) | 2021 Berlin International Film Festival Review
Bye Bye Birdie: Beauvois Bears Burdens in Old-Fashioned Melodrama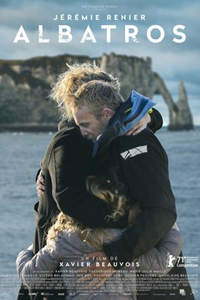 The albatross, a large white seabird with a significant wingspan, has been a symbol of a burden for paying penance ever since the 1798 poem The Rime of the Ancient Mariner by Samuel Taylor Coleridge depicted this helpful avian creature leading a ship out of a jam only to be murdered by the titular sailor. As the title of the latest film from Xavier Beauvois suggests, Alabatros is also a narrative marrying oceanic themes and the impossibility of atonement for murdering another living thing. The English language title, Drift Away, divorces itself from such metaphorical obscurity to convey something a bit more basic (as is often the case for international titles being rebranded for easier marketing), but Beauvois finds himself adrift in what amounts to a somewhat stagnant, old-fashioned melodrama about grief and redemption.

Laurent (Jeremie Renier) is an overworked but overall happy-go-lucky police chief in the small enclave Etretat in Normandy. He's just proposed to Marie (Marie-Julie Maille), who he's been with for ten years, the news of which is joyously received by their young daughter, Poulette (Madeline Beauvois). But Laurent is pulled in too many directions at once and so misses the chance to correctly address an intensifying situation with a local farmer, Julien (Geoffroy Sery). When a night-time altercation between Julien, Laurent, and fellow officer Quentin (Victor Belmondo, grandson of Jean-Paul Belmondo) resorts to violence, the two policemen suddenly find themselves embroiled in a scandal.
Technically Beavois' ninth feature (his eighth solo), Albatros reflects his usual interests in characters defined by their occupational experiences, which are often at add with their personal desires. While he's most revered for his 2010 title Of Gods and Men, about a clutch of French monks in Algeria suddenly imperiled by fundamentalist terrorists, or the women forced to work the farm during WWII in 2017's The Guardians, this latest effort from Beauvois returns to the law enforcement realm of his underrated 2005 drama Le Petit Lieutenant, which won Nathalie Baye a Cesar. But the effortless tactics employed in this earlier drama are nowhere to be seen in this labored confection which tries vainly to formulate a tragedy mired in ambiguities.
As Laurent, Jeremie Renier gives a finely moderated performance, but Beauvois' script renders what initially feels like appropriate anguish as a soggy portrait of grief porn. For as much time as we spend being led down the road of his emotional impoverishment as the overtaxed police chief in a quaint seaside community, his relationship with his girlfriend turned fiancée feels tacked on, with no chance for chemistry between Renier and Marie-Julie Maille. In fact, Laurent seems like a veritable emotional iceberg whenever anyone else is in the wake of his gravitational pull. The first half of the film consists of non-sequiturs and various tangents.
Iris Bry, as a rookie officer, keeps reporting back about a sexually abused child, and Laurent keeps retreating into the sailing fantasies left behind in the wake of his dead father. Beauvois himself pops up in a cameo as a drunken troublemaker at a bar. A suicidal man jumps off the cliffs and to his death atop a wedding photo shoot. Eventually, we finally settle into what Albatros is about following the accidental death of a desperate farmer (Geoffroy Sery) spurred by his flagrant violation of regulations. Cue a weepy melodrama which literally drifts away on itself ("The ocean will console your father," a confused Poulette is told when Laurent absconds to the sea) and a rather cornball and convenient bit of magical realism for the salvation of Laurent's soul. You'll likely feel worse for the character who lost his life over a situation which doesn't allow for any real sense of penance, but at least Albatros is beautiful to behold thanks to Julien Hirsch's (Lady Chatterley; Mama Weed) cinematography.
Reviewed on March 2nd at the 2021 (virtual) Berlin International Film Festival – Main Competition. 115 Mins.
★★/☆☆☆☆☆