Reviews
Eisenstein in Guanajuato | Review
Once Upon a Time in Mexico: Greenaway's Homage an Inspired Provocation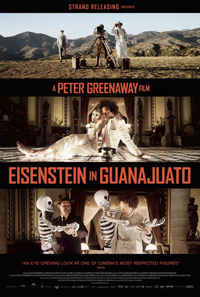 Erotically charged and artfully crafted, Eisenstein in Guanajuato is the first of two titles devoted to portions of Soviet filmmaker Sergei Eisenstein's life, and proves Peter Greenaway has lost none of his edge. At the age of 72, British auteur filmmaker maintains his ability to amaze. Ever the provocative experimentalist, he belongs to a rare class of director, one who manages to delight and confound, challenge and dismay even into his later period of film making. There's a perverse thrill to be had watching the daringness on display in this examination of a Russian legend that bluntly examines his sexual orientation in a way that would never be produced from his native country.
Based out of Netherlands and often focusing on depictions recreating the universe in which iconic works of art originated, Greenaway's later films haven't received the same heights of acclaim as some earlier masterworks. Recent discussions about the filmmaker tend to focus on his vocalizations extolling the death of cinema since the medium has proven to be impervious to evolution. While 2007's Nightwatching was resolutely dismissed, and 2012's brilliant Goltzius and the Pelican Company is still without US distribution.
Riding into Guanajuato accosted by flies he laughingly refers to as Soviet spy agents, renowned Russian filmmaker Sergei Eisenstein (Elmer Back) arrives in 1931 Mexico to make a film financed by esteemed author Upton Sinclair. Having tried to make a film in the US with little luck, what follows is a sort-of examination of the abandoned project that would come to be known as Que Viva Mexico! But rather than focusing on Eisenstein's filmmaking (film making), we instead focus on the director's formative sexual awakening as a gay man, initiated into his desires by his guide, Palomino (Luis Alberti), a married man with whom he soon becomes overly enamored. According to his nighttime proclivities, one would have assumed the period to be fruitful, but peripheral financiers squabbling about the endless miles of footage being produced to no end soon put an end to Eisenstein's welcome in Mexico.
As in many of Greenaway's films, Eros and Thanatos remain the only constants in the spectrum of human experience, and his portrait of Eisenstein is no exception. Opening with the type of bombastic fervor we've come to be accustomed from Greenaway, this film has less experimental flavor than several other titles, though there's a never-ending parade of ornate set pieces interspersed with graphic animation taken from Eisenstein's sketches. The film's most scandalous sequence involves Eisenstein's deflowering. Arriving in Mexico at the age of 33, the director professes to be a virgin, something the more enlightened Palomino (whose equine name is made direct use of) is keen to correct. Pouring olive oil down his back and mounting Eisenstein while giving an oral history of syphilis, it ranks as one of the most wonderfully blunt, torridly kinky and sexually liberated film sequences you're apt to see. As filmed in the revolving chamber with a centrally located bed, it recalls another of Greenaway's more infamous sex scenes, the rape sequence of the maligned The Baby of Macon (1993).
DoP Reinier van Brummelen began working with Greenaway in 1992 with a revisionist take on Darwin, expanding upon their body of work with several more fruitful collaborations since. Here, the cinematographer's opulent frames become a virtual diorama in several segments, the intricate visuals too elaborate and lavish to appreciate fully after merely one viewing. While many segments take place within Eisenstein's bed chamber, a definite highlight is a striking tour through the sinister Museum of the Dead.
Greenaway's script flows with ease through laborious exposition, something that seems to add to the decadent onslaught. Every now and then a supporting cast member tends to distract (like a caricature of Upton Sinclair's wife played by Lisa Owen), but these moments are too brief to detract. Early in the film Eisenstein describes Hollywood as "a separate country all on its own." In the realm of cinema, one may as well extend that description to Greenaway as well.
★★★★/☆☆☆☆☆
Reviewed on July 13th at the 2015 Outfest Los Angeles LGBT Film Festival. Centerpiece Screening section. 105 mins.