The Princess of Tides: Dagher Can't Go Home Again in Broody Beirut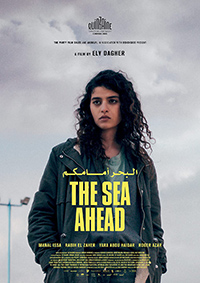 For his directorial debut, The Sea Ahead, Ely Dagher expands on the themes evident in his earlier short films, including the 2015 Palme d'Or winning short Waves '98, where a sense of isolation and alienation are the pervasive sentiments dictating his characters' experiences in Beirut. Headlined by a stand-out Manal Issa, the narrative plays out in what could potentially be assumed semi-autobiographical flourishes as it concerns a prodigal daughter who unexpectedly returns to her parents' home after a stint abroad without any explanation, only to be greeted by ghostly feelings she never laid to rest.
Since filming took place before the Beirut port explosion drastically altered the landscape on August 4, 2020, Dagher's film eerily plays like an immediate time capsule, an automatic period piece considering the drastic effects of the tragedy which continue to hobble the region.
Jana (Issa) suddenly returns to her birthplace of Beirut after having spent two years in Paris, where she was attending university and apparently working odd jobs here and there to support herself. Her mother Mona (Yara About Haidar) and her father Wissam (Rabih El Zaher) are reluctant to ask the actual reason for her return, ascertaining something is not quite right but perhaps not wanting answers to their questions as to why Jana is so melancholic. Jana is distracted by their home not being what she remembered it, their view of the sea now occluded, most of her old friends now relocated or disbanded altogether. Her ex-boyfriend Adam (Roger Azar), however, is still there, and a reintroduction allows an immediate sense of distraction, but despite reclaiming their intimacy, his lack of ambition mixed with the dissolution of their relationship steers them towards mutual indifference. When together, it seems both are simply biding time until Jana decides where she'll abscond to next.
Strangely, The Sea Ahead also plays like a spiritual sequel to Danielle Arbid's Parisienne (2015), in which Issa starred as a 1990s Lebanese teen who ran off to Paris to find herself. Whereas Arbid's film allowed her protagonist a more hopeful sense of stability, Dagher composes the opposite sensibility, and we know little of Jana except whatever happened (or didn't happen) in France, she's been set adrift emotionally and professionally. Her affable parents seem cautious, even a bit frightened to press about why she's suddenly come back, though her uncle is eager for her to resume a culturally appropriate gender role, to which Jana glibly resists.
Seeing as we know so little about any of these characters, Dagher situates them as figures in a particular landscape, with Beirut descending into a kind of dead zone at night, the industrial infrastructures echoing the ennui of Monica Vitti in Antonioni's urban decay, such as Red Desert (1964). While DP Shadi Chaadan beautifully captures the cityscape, the visuals and narrative themes don't crystallize as effectively as the cinematic titans being echoed, and eventually, the initial promise of Adam's re-introduction in Jana's life feels a bit monotonous. A sense of menace begins to pervade in the film's closing act, like a storm crowd brewing. If there's anything we learn or sense about the mostly inscrutable Jana, it's her yearning to find a place of comfort, a home. But if home is where the heart is, the solution to her angst won't likely be found in Beirut.
★★★/☆☆☆☆☆